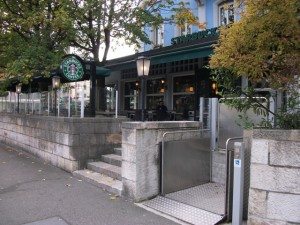 We're still traveling through the Starbucks world with this blog! Next stop, Switzerland!  Our featured Starbucks is located in Canton Basel and it is the "Centralbahnplatz Starbucks," which roughly translates into "Central Train Station Starbucks."  I owe a big thank you to Sebastian Birr who not only took the amazing pics for this blog post, but also gathered a lot of information for me about the Starbucks operations in Switzerland.  For German speakers, or anyone interested, there is a major Starbucks Switzerland Facebook page.  There is also an official Starbucks.com page for Switzerland which can be viewed in French, German, or English.
Starbucks has a very dense market in Switzerland.  The Fiscal 2009 Annual Shareholder Report says that there are 47 Starbucks operating in Switzerland.  Sebastian tells me that a new store opened recently (the "Stücki Einkaufszentrum (Mall)"  location) with a total of 45 stores in Switzerland.  By my count, then, it should be 48 stores in Switzerland but I'm not really sure of the exact number.  Most of the Starbucks in Switzerland are located in the capital city of Zurich.  In Switzerland, there are Starbucks in Basel, Bern, Geneva, Zurich, St. Gall, Lucerne, Lausanne and Zug.
For those wanting to know more nitty-gritty information about Starbucks and Switzerland, one city that does not have a Starbucks is Winterthur.  In a September 27, 2010  Zurich news article,  (in the "Tages Anzeiger") it was reported that Starbucks is actively looking at this city which has a population of greater than 100,000, yet no Starbucks.  Apparently the rents are high, and space does not easily become available in the "Altstadt" (the old part of the city).  The news article ends on an optimistic note that there may yet be a place for Starbucks in 2013 in this city.  The article reports that new construction planned in the Archhöfe region of Winterhur would possibly provide a desirable location for Starbucks.
Back on the topic of our current blog visit to Centralbahnplatz Starbucks in Basel:  Sebastian reports that the outdoor seating is large and comfortable, there are a variety of food offerings, but overall the prices are quite high.  Be prepared to spend the equivalent of about $20 for a Starbucks City Mug.  A Venti Caramel Frappuccino was about $9.00.  Some of the food offerings are easily around $7.00.  It's definitely spendy!  However looking at the food options shown in these photos, the food looks delicious!
However, we're not done talking about Starbucks operations in Switzerland.  This probably should have been the first thing written in this blog article: Switzerland is THE green coffee-sourcing location for Starbucks.  There is an incredibly important corporate green-coffee buying facility located in Lausanne, Switzerland which selects all green beans purchased by Starbucks.  Your cup of Kenya in Seattle might have begun in Lausanne, after its birth in Kenya.  My friends over at 15th Avenue Coffee and Tea wrote a detailed blog about the Lausanne facility, so if you haven't read it, check it out:
If you are not following 15th Avenue Coffee and Tea on Twitter, I recommend that you follow them.
If you enjoy reading about Starbucks outside of the United States, take a look at this link here for previous episodes about Starbucks in international markets:
StarbucksMelody.com category: International Starbucks.
Enjoy your quick educational trip to Switzerland! Please feel free to comment. 🙂  Thank you again to Sebastian Birr.  (If you are not following him on twitter, I recommend that you do so!)
(The first 7 comments directly in this thread with retweets win one box of Starbucks Flavored Via – I make no promises about which of the 4 flavors.)
Related posts