Featured Clover Starbucks: Fountain Valley, California
Melody, August 29, 2011
17
5 min

read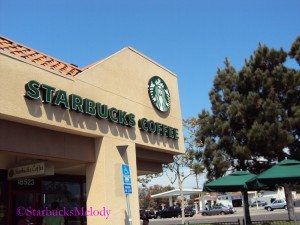 We continue our journey visiting as many Clover Starbucks as possible.  Next stop:  Fountain Valley, California.  This store launched their Clover on July 7, 2011, and  they even have the new logo up and it looks great!  This is a great little cafe-only Starbucks is on the corner of Brookhurst and Ellis in Fountain Valley, California.
On Saturday the 27th, I flew into John Wayne Airport, rented a car, and headed to Fountain Valley to squeeze in a Starbucks store review before meeting up with my mom.  Lucky for me, this store actually is a very short drive from the airport; it was only about a fifteen to twenty minute drive, and easy to find off of the 405 North.  Here's the address:
Starbucks store #5769
18523 Brookhurst Street
Fountain Valley, California 92708
(714) 378 5931
The entire time I was at the store, there was a steady flow of customers.  I walked up to the register and ordered an iced Kenya Tana River from the Clover, and grabbed a sesame noodle bistro box because I was quite hungry.  I asked the register barista (who had "Erin" embroidered on her apron) who was the store manager, and she said, "We don't have one at the moment.  We're all the managers now I guess!"  I really like that answer!  Of course she could have meant many things by that, but I read into that top-shelf answer a sense of ownership for the store:  We are all responsible for what happens here.
The barista who made my beverage was "Nicholas."  My drink was perfect.  I asked him how long the store has had the Clover brewer, and he stated that it was launched on July 7th, this year.  I asked him how he remembered the exact date and he said, "I started at this store on the 6th, and the next day we had the Clover!"  This store has two Mastrenas, one Clover, and recently underwent their major ten-year renovation.  It looks just great.  And I really enjoyed the small chance I had to talk to the partners.  Everyone was absolutely friendly! Nicholas also mentioned that the new logo on the exterior of the building had only been up about two weeks.  I did some digging on my own and learned that this store originally opened brand new on June 2, 2000.
I stayed a while hoping to get some good photos of the store, but the flow of people was very steady, and a few people stayed sitting for quite a while.  I realized that I would have to come back early the next morning to get some good photos of the cafe, which in fact I did.  Sometimes I will stay sitting at a store for a while trying to wait for people to leave to get pictures, but I really couldn't stay for an extended visit.  (I was also quite glad that the partners all seemed familiar with the current Starbucks photo policy.)
While I was visiting on the 27th, a customer came in who appeared very excited to try her first Clover cup of coffee.  We got to talking, and I mentioned that there are few Clovers in Orange County, but many in Washington State.  She laughed and said, "I'm from Tacoma!  I just haven't gotten up to Seattle to try it, and I'm here visiting my dad."  This customer (who I later learned is "Lori") is truly a Starbucks fan.  I was nearly green with envy when she told me about getting one of the few precious invitations, and attending the special Coffee and Conversations with Howard Schultz event in Lakewood, Washington.  Having heard Howard speak in person, she was inspired.  (On this blog, I have a handful of audio recordings and miscellaneous blog posts directly related to Howard Schultz messages.  Click here to browse the Howard Schultz category.)  I enjoyed chatting with her and helped her pick out her first Clover brewed cup of coffee!
This store itself is fairly small, but it's warm and welcoming, and has an inviting design.  I like what they've done for the community board too!  And notice the huge wall that is the chalkboard for the Reserve coffees.  Very cool!
As I mentioned previously, I am trying to visit as many Clover Starbucks as possible.  Obviously that's not what this blog is solely about, but it's a fun adventure to visit Clover stores.  I think there could be around 225 of them company-wide.  I really don't know exactly how many, so that number could have a very wide margin of error.  I assume at some point they will stop adding so many Clover stores.  In order to keep the smaller-batch Reserve coffees truly small, there really is a top limit to how many stores can be Clover stores with Reserve coffee offerings.  In any case, looking back, I wanted to share some previous blog articles of memorable Clover Starbucks store visits:
So here are the photos of this store. I hope you enjoy them!  I was really happy I squeezed this Starbucks into my visit to California.  Absolutely great to visit a store where the partners connect, look like they're enjoying themselves, and the store is so warm and welcoming.  Please feel free to comment.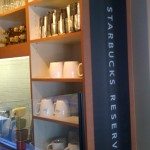 Related posts