Melody tries the Starbucks "Refreshers" test drinks in San Diego
Melody, September 28, 2010
27
5 min

read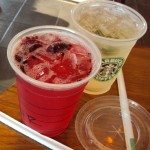 Starbucks has been testing beverages called "Refreshers" in San Diego.  It was a widely-publicized test, so I had been aware of it long before discussing it with others on social media sites.  Through connecting with people on the blog and through twitter, a store manager in San Diego said, "Come to my store and try them!"  And to that I said, "Yes I will!"  It was an easy short trip.  I hopped on a plane; Stayed with family in Orange County, and then visited the Starbucks in San Diego with the beverage.
By way of a little background on this drink:  The beverage is called "Refreshers" and comes in two flavors: Cool Lime and Very Berry Hibiscus.  This was a limited "test" item in San Diego County only and scheduled to end at the end of this month.  The drinks have been so popular that the supplies of them are nearly depleted.  The store manager who hosted me set aside a little bit of the Refreshers mix so that there would still be some for my visit.  Between the two, the lime flavor was my favorite.
Refreshers are an iced drink made with the extract of green coffee.  A tall "Refreshers" drink has less than 15 mg of caffeine – less than a cup of green tea and far less than a cup of brewed coffee.  The price point of the tall lime Refresher was $2.50.  The weather was scorching hot in San Diego – reaching 100 degrees.  This Seattleite felt like she was going to die.  Refreshers were refreshing.
I want to talk a little bit about this store (Starbucks store #527 in San Diego).  It's a physically small neighborhood store.  It exemplifies the kind of store that is fairly busy with many regular customers and partners who know their drinks and names.  According to the store manager, this store first opened August 8, 1992.  She's been here a few months, and loves it.  While I was sitting chatting with her, a customer named Tom S. joined the conversation.  He's been coming to this store for a decade.  Tom and I had a fun time talking too – By coincidence, he and I went to the same law school.  Tom S. wanted to share his passion for this store and said this, "I've been coming here for over ten years and I can objectively say it's one of the best I've been to and I've been all around the U.S. "
When I travel to stores to write store reviews and try beverages a variety of things can happen.  Sometimes District Managers greet me at the store.  Sometimes nothing happens at all.  I have to admit I'm totally touched and flattered that this store clapped when I got to the register!! Okay, that made me blush and happy at the same time.  I'm a little embarrassed to tell my readers that they clapped but it did make my morning.  The store knew I was arriving through my twitter conversation with the store manager.  A partner named Zack sat down with us for a few minutes and told us a little bit about the beverages.  You can hear Zack talk about the refreshers by going to this link here:
This store offers a chocolate croissant too as a pastry item – something not available in Seattle.  The store was clean and busy the entire time I sat in the lobby.  I noticed a fun chandelier hanging.  It's an older store design but looks great.  Though my favorite thing about the store (in terms of the physical store itself) was the chalk art for the Toffee Mocha and The Pumpkin Spice Latte.  I love barista chalk art.
This was a great store visit.  A lot of fun to try something brand new with enthusiastic partners.  It was an easy two thumbs up and I'm sure it's a store that makes Starbucks proud.
This trip to Southern California produced a total of three store reviews: (Eventually all of the links will work, but some of the posts below have not yet been published)
Also, if you like reading about test products click on this link for previous blog posts on test products:
And if you like store review blog posts, go here for more:
Now is your chance to weigh in, and definitely if you've tried the Refreshers please tell me what you thought!
Thank you again to Kate, Zach, and everyone at this store – All of you made my visit absolutely perfect and wonderful.
(PS: I seem to be incapable of following a posting schedule for content, but I'm trying to get better at that. Sorry to be so off schedule. I had said Sundays and Wednesday. Well, I'm close. Today is Tuesday).
Related posts