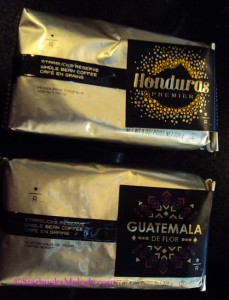 It's time for some quick coffee education, and an introduction to two new Reserve offerings:  Honduras Premier and Guatemala de Flor.  Today (September 3, 2011)  I went to a coffee cupping at the Starbucks at 15th Avenue Coffee and Tea.  A cupping is the industry standard way to taste coffee and compare nuanced flavors.  You may think of it the way you'd learn about any other food:  If you compared (side by side) a Red Delicious Apple with a Fuji Apple, you'd surely say they both taste like "apple" but you could also talk about the flavor differences of the two apple varieties.
I'm not going to repeat the background information about what a "cupping" is, but if you need a refresher on cuppings, I recommend this old blog post:
Both of these two new Reserve coffees are washed processed.  I really like the flavors in the Honduras.  It has some syrupy notes and deep spice notes.  One person in our group today described it as a "brown" flavor coffee and thought it was juicy.  This is a great offering.  I can't wait to try it on the Clover.  The yellow design on the packaging is supposed to be reminiscent of the primary flavor notes: honey.
In today's cupping, we cupped Guatemala Antigua De Flor, the core Starbucks Guatemala coffee (a blend of coffees from all over the Guatemala Antigua growing region), Honduras Premier, Kenya (the core coffee which is a blend of beans from all over Kenya), and the Reserve offering Sumatra Tapanuli.  The Sumatra Tapanuli is one of my favorites, and is amazing through the Clover.
The barista who hosted the cupping spent several minutes discussing coffee processing methods.  There are three basic coffee processing methods and they are washed, semi-washed, and the sun-dried (also called the "natural" method) method.  I got some audio of her discussing these processing methods – great information if you need a refresher on how each of these three methods affects the flavor of the coffee:
If you are ever in Seattle, you should definitely drop by 15th Avenue Coffee and Tea Starbucks.  It's a great experience, and they now do cuppings fairly regularly on Saturdays at noon.  (Call ahead for cupping schedule information because it does change sometimes.)
Related posts