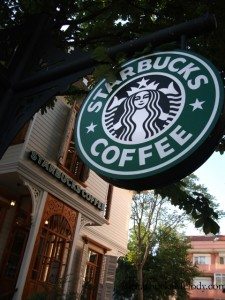 My Starbucks-friend Sebastian Birr was just a on trip to Istanbul, and he took many beautiful photos of the stores in that city.  The Starbucks stores in Turkey are gorgeous.  Some are situated in beautiful historic buildings.  A number of stores have the new logo up.  He sent me an email with a few photos and little information about this Starbucks market, and generously gave me permission to share them here.
There are roughly 140 Starbucks stores in Turkey, per Sebastian's research.  I checked the most recent Annual Report which shows that Turkey has 137 stores as of the end of Fiscal 2010.  Per Sebastian, about 93 of them are in Istanbul.  Interestingly, Sebastian learned that all stores in Turkey offer a fresh squeezed orange juice made right in the store, and all stores offer a Turkish coffee called "kahve" which he describes as tasting a little "chocolaty."   All the Starbucks in Turkey offer free WiFi!  The business hours of most stores are very long.  Typical hours of business for a Starbucks in Turkey are 7:00 a.m. to 1:00 a.m.  The prices for beverages is significantly higher than buying beverages from a local merchant. (Per Sebastian:  "e.g.: a Mocha Frappuccino in Venti is like 13,50 Turkish Lira…a bottle of Coke at most food stores in the city costs like 1 to 1,5 Lira").
All of the stores offer a number of food options, such as a spinach wrap called, "Börek,"  and there is a commonly-found  pastry called "Mozzaik Pasta."  ("Pasta" means "cake" in Turkish.)  Another interesting tidbit is that the Coffee Frappuccino costs as much as the Caramel Coffee Frappuccino and both are the cheapest Frappuccinos on the menu…all other Frappuccinos, like Caramel Creme etc. cost more than these two.
So here's our tour of Starbucks in Turkey.  Caveat:  I really hope that I got address information correct for the photos, but I got a little bewildered by the Turkish, and so I fear that I might have some mistakes below.
(1) First stop, the Beyoglu Starbucks:  I attempted to Google for an address for this store, and this is what I found:
Asmalımescit Mah. İstiklal Cad. No:134/A K:Zemin  Phone: +90 212 252 32 88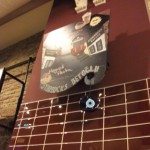 (2) Next stop, the Astoria Starbucks.  Address:  Buyukdere Cad. No: 127, Esentepe, Z1 – 13, Istanbul TR – 34.  Phone: 90 212 215 22 45
(3) Third stop, Starbucks coffee house Cevahir Meydan.  Address:  Buyukdere Cad. No: 22/2, Sisli, Istanbul, TR – 34 80740
(4) Next stop, the Kanyon Starbucks in Istanbul.  Address:  Kanyon Shopping Center, Buyukdere Cad., Levent GF, Istanbul, TR – 34 90 212 353 06 26
(5) Last but not least, Starbucks Yesilköy.  This particular Starbucks seems to have a busy Foursquare location.  That Foursquare location has an address for this store, but I'm not sure if that's a complete address, and I struggled to figure out the exact address.  In any case, here of the photos of this beautiful store: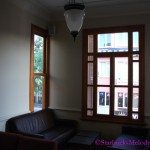 I hope you enjoyed your tour of Starbucks in Turkey.  I know there are a ton of photos to go through, but they are all such unique and beautiful stores.
The first ten people to leave a comment and tweet this blog post (please add "@sbuxmel") win a $5.00 Starbucks gift card.  Contest ends at noon P.S.T. on September 4, 2011, or first ten comments, whichever comes first.  Commenters must have a United States address.  Spam is not permitted.  (Yes, "thanks for sharing" without more is spam.)  Your name may not include "key words."
Related posts