Starbucks: The current merchandise review episode
Melody, September 12, 2011
30
3 min

read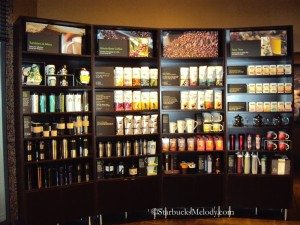 Let's look at the merchandise that is currently offered in Starbucks stores.  I'm just going to walk you through a number of mugs, tumblers, and current merchandise items and offer my two cents.  Please feel free to post your own thoughts too in the comments!
The stores have an early fall look to them, with mugs for Anniversary Blend coffee, Via Ready Brew mugs, and new tumblers.  I took all  of these photos while visiting the Starbucks at 6th and Union in downtown Seattle today, September 11, 2011.  I knew that 6th and Union has a large and impressive looking merchandise wall, so I picked that store.  I was glad to walk in and see two very friendly partners whom I know.  One of them said that she's the one who had set up the merch wall for this fall's launch.  (Wait.  Please allow me to clarify:  I walked in and saw three partners working at the 6th and Union store.  Two of them I already knew.)
One mug that I think is quite elegant and beautiful is the new black and white logo mug.  The logo, while perhaps not obvious at first glance, is etched into the side of the mug.  The white logo against a black background is striking, and it is even more striking to hold it in your hand and feel the grooves made by the logo: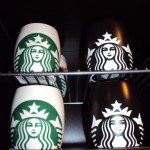 Next up, I took a look at two new Via travel mugs.  Each one appears to be about 12 ounces, though I didn't double check!  I really like the one with the orange-colored rim and the word Via around the rim.  It looks like a great size for Via (of course that's the point!), and I like the pattern, and it is comfortable in the hand.  Although brown and orange are quintessential Via Ready Brew colors, I also think it fits nicely in with the fall merchandise since those are fall colors too!
There are coffee sleeves for those that are interested in them.  There's nothing about these sleeves that jumps out at me, and since I don't normally use a sleeve, I have difficulty getting enthusiastic about them.  But here they are: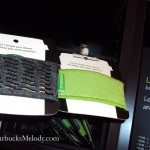 There is some merchandise for the tea drinkers too:
I like the ceramic pour over!  Notice that it comes with filters in it:
One unsung hero in the merchandise is the white 16-ounce travel tumbler with the new logo on it.  It has been around since before the fall launch but it is worth pointing out.  I have one at home and haven't really been using it.  I don't usually use Grande size tumblers and mugs.  Recently, I decided to make Iced Caramel Via in it, and I closed it securely and shook it with the cold water and Via.  This travel tumbler really doesn't leak!  I was totally impressed.  This is the tumbler for those who don't want coffee leaks!  I noticed on the bottom it says "Made in the USA."  For many people, that is a big issue!  More points for the basic solid white with logo travel tumbler: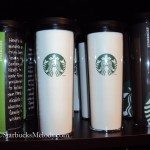 And last but not least, there is an Anniversary mug and tumbler:
Hope you enjoyed this tour of (selected) current merchandise!
Related posts