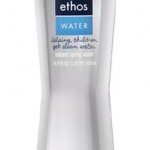 Let's make Starbucks' partnership with Ethos Water better.  If you read no further than this one sentence, then click here:
And now for more detail and how this blog post came about:
By some random luck, through fellow twitterer QuirkyJessi, I stumbled upon a website called "Blog Action Day".  The website selects a topic and attempts to create a global discussion on a specific day.  So this year, the topic is "water" and participating blogs are all blogging on October 15, 2010 about "water".  I saw this as a perfect opportunity to again talk about Ethos Water at your local Starbucks.
The mission of Ethos Water is "helping get clean water to children."  In 2005, Starbucks acquired Ethos Water and now Ethos Water is widely available for purchase at every Starbucks location.  The Ethos Water Fund is part of the Starbucks Foundation which raises money to bring water to children in need in developing nations, and/or raise awareness about the world water crisis.
In the United States, five cents from every purchase of Ethos Water is allocated to the Ethos Water Fund.  According to the Ethos Water website, the program anticipates bringing in about $500,000 in fiscal 2010.
Personally I fully support this program because a customer who might have purchased water anyways in the store, will then be making a donation to a worthy cause.  However, despite my ardent support of this program, I really think it could be improved.  I have no idea what it costs to administer the program, but in order to give it more teeth, I honestly think the donation should at times be more than a nickel.  Even the cup discount is ten cents if you bring in your own cup.
I have some ideas for strengthening the Ethos Water partnership.  Most of my ideas are based upon what seemed to work for Starbucks with their partnership with (Red).  The ideas include things like a blue Ethos Starbucks Card, increased Ethos Water merchandise, and special "Ethos days" with increased donation.  I created a MyStarbucksIdea.com thread with my ideas and I hope that my friends here will go vote on that thread:
Ethos Water: Stand firm behind this partnership
Just as an aside, about one year ago I did a blog article about (Red) and summarized some of the ways the partnership had been a success.  It's interesting to look at ways that Starbucks can successfully partner with good causes, whether we're talking about (Red), Conservation International, or Ethos Water: Previous blog post- (Red) The Year in Review
Anyway, enjoy your "blog action" day entry from StarbucksMelody.com!
Related posts