Refreshingly New: Starbucks Barista Bar Blender (2003)
Melody, October 13, 2010
45
2 min

read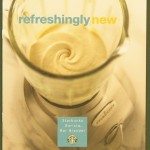 A friend sent me a little booklet produced by Starbucks showing off the "Starbucks Barista Bar Blender". The booklet was produced in 2003, and I have to assume that back then you could purchase a blender inside a Starbucks.  I don't personally remember being able to buy a blender at a Starbucks in that era, but in 2003 I was a student and spent very little money inside a Starbucks.
There is something really fascinating and interesting about this little book:  Whoever put the book together carefully took the time to match which coffees from the whole bean menu wall paired with which blender recipes.  The attention to coffee, despite that it is a blender recipe book, is fantastic.  The variety of coffees which were available in 2003 is interesting too.
For example, the first recipe ("banana boost") pairs with House Blend, Guatemala Antigua, and Light Note Blend.  Once upon a time, Light Note and Light Note Decaf were core coffees.  Irish Bliss blender beverage recipe pairs with Italian Roast, Gold Coast Blend, and Colombia Narino Supremo.  The Hello Honey recipe pairs with Kenya, Ethiopia Sidamo, and Gazebo Blend.  There are a few more recipes in the booklet, but you get the idea.
I've always believed that Starbucks would have to innovate and keep things fresh to keep vibrancy in the stores.  One wish I have for Starbucks is that they take more time to affirmatively market food and product paired with coffee.  For example, when Starbucks launched the gluten free orange valencia cake some time ago (now discontinued), there was a perfect opportunity to talk about what coffee went with that item.  By the same token, someone could try to figure out what coffee goes with a number of the current pastry and sweets offerings.
Here's the little book I'm referring to, for you to enjoy:  (And thank you to Molly at Seattle Custom Framing for her help with the photos)
Related posts