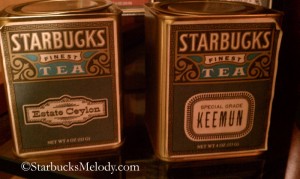 Today (9-19-11) I had the chance to visit the Starbucks Support Center (the headquarters), and I noticed something on a shelf, in a corner:  a few tins labeled, "Starbucks Finest Tea" caught my eye.  I picked them up to get a better look.  The packaging was absolutely beautiful.  So this was Starbucks tea long before Tazo was in the picture?
I noticed the address on the back of the tins listed the Starbucks headquarters as 2010 Airport Way South.  This means that the tins  pre-date the June 1997 move into the current headquarters location at 2401 Utah Avenue South, Seattle, WA 98134.
I apologize for the quality of the photos.  I spontaneously took some photos with my phone.  Hope you enjoy them!
Related posts