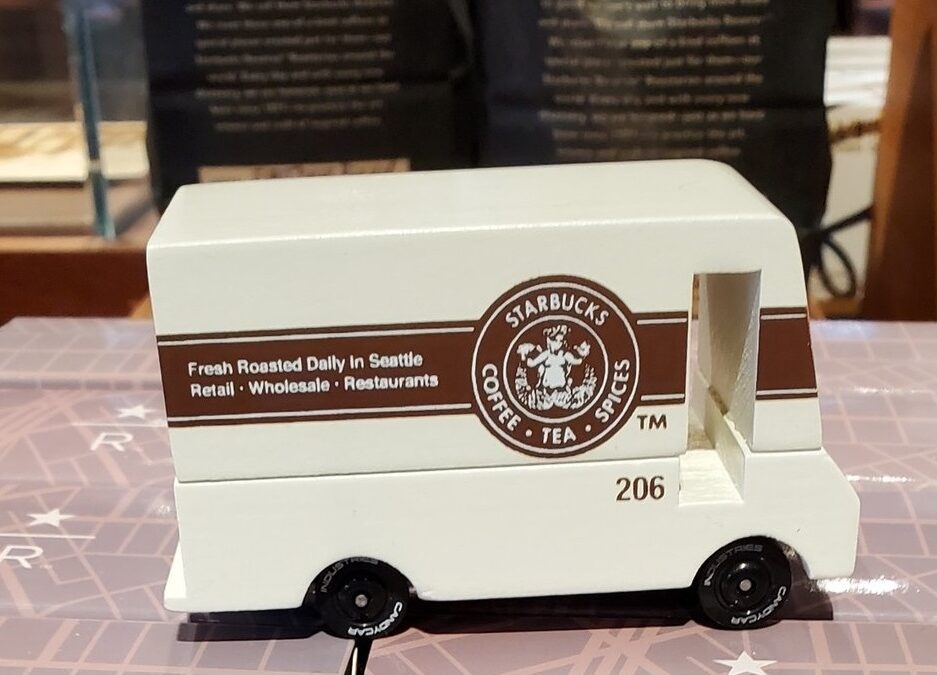 Super cute little Starbucks truck – Available at the Seattle Roastery.
Melody, November 25, 2021
2 min

read
November 24, 2021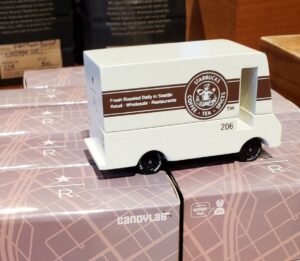 The Seattle Reserve Roastery launched some new merchandise earlier this month, and one item that jumped out at me, and resonated with me is this super cute Starbucks truck. It's a toy truck made by Candylab Toys, a company which makes toys out of wood and die-cast aluminum.
There are 3 die cast toys made by Candylab available at the Roastery: (1) A Princi truck (Princi is an Italian food business operated by Starbucks, with locations insides the Roasteries, as well as other locations.)  (2) A whiskey barrel truck and (3) this classic Starbucks truck.
The whiskey barrel truck honors the limited-availability coffee Whiskey Barrel Aged Guatemala, and the body of the truck looks like a whiskey barrel. The toys retail for $29.95 each.
Turning back to the Starbucks truck with the iconic Starbucks logo: The Candylab Toy truck seems to harken back to this iconic photo of the classic late 1970's Starbucks coffee delivery truck: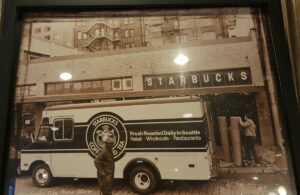 Back in 2015, I had a chance meeting with the gentleman who actually bought that cute little truck. The truck was bought by Steve Ramsey, who told me that he only worked for Starbucks for a few years, between about 1978 – 1980. Gordon Bowker (one of the original founders of Starbucks in 1971) told him to go buy a truck, and Steve remembers clearly buying this truck, bringing it to Gordon Bowker who responded with, "Weren't we expecting something a little bit bigger?".
You might recall, in the mid-1970s, Starbucks began delivering freshly roasted coffee to area restaurants, and the first such restaurant was Jake O'Shaughnessy's in the Seattle's Queen Anne neighborhood. Caffè Verona was the very first coffee to be offered in a restaurant. And on the topic of whiskey, most people are unaware that Caffè Verona goes perfectly with an Irish whiskey drink! I met the man who opened Jake O'Shaughnessy's restaurant and got the real Caffè Verona story back in 2016.
There you have the story behind the Candylab truck: It is based upon a real truck which was really used by Starbucks to deliver coffee to area restaurants, starting in the late 1970s.
Update on December 4, 2021:
I confirmed with a media relations representative at the Starbucks headquarters that the Starbucks Candylab toy is exclusive to the Seattle Roastery. The Princi and Barrel Aged Whiskey toys are available at all 3 United States Roastery locations (Seattle, Chicago, New York.) Also, I added two more photos today, uploading a Princi toy truck pic and a Whiskey Barrel toy truck pic.
Related posts