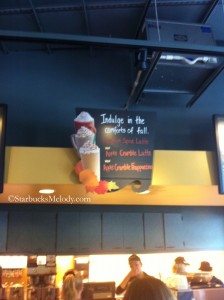 Starbucks is testing an Apple Crumble Latte and Apple Crumble Frappuccino in Charlotte, North Carolina.  Has anyone here tried it?  I think it sounds better as a cold drink idea than a hot drink.  Of course I reserve judgment until I have given it a try!
This morning I was tweeting with twitter-friend "NationHahn,"  and he mentioned that he wanted the Apple Crumble Latte to go national.  At first, I thought he was referring to the current Starbucks Japan promotional beverage.  In September this year, Japan did indeed launch an Apple Crumble Latte.  I had read about, and seen pictures of the Japan promotional beverage on Kaori's Starbucks Blog.   My twitter-friend corrected me, and said that this beverage is a fall promo beverage throughout Charlotte, North Carolina.  He emailed me the attached photo.
Sure enough, it's a test beverage in Charlotte.  And NationHahn left me with the instructions, "It is so good, tell Howard and co to bring it to the masses." 😉 (You should be reading that in a light-hearted tone of voice.)
So do tell.  What do you think of this drink idea?
Thank you NationHahn for your generous permission to use this photo.
(If you enjoy reading about test products and ideas, click here for more of these kinds of articles.)
Related posts