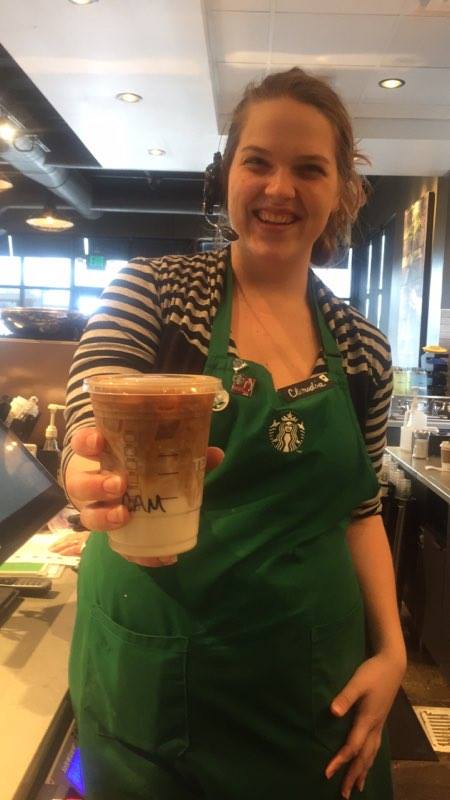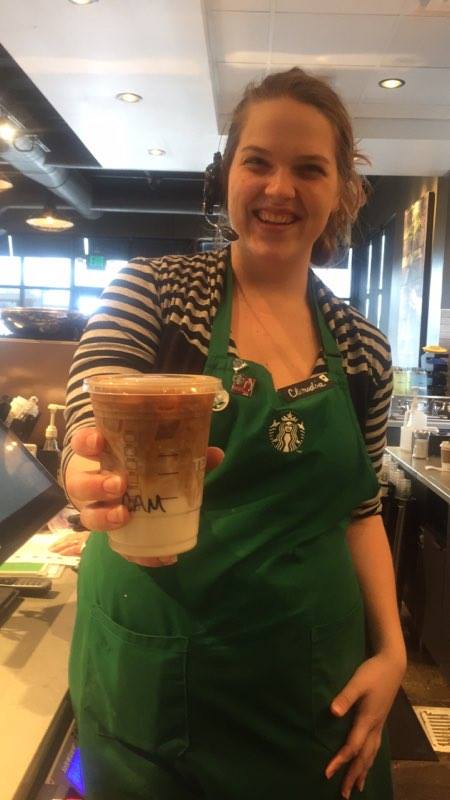 Starting tomorrow, February 28, 2017, two spring drinks enter the Starbucks lineup:
Starbucks Iced Cinnamon Almondmilk Macchiato – This picture-perfect new drink features signature roast Espresso, the creaminess of almondmilk and sweetness of cinnamon dolce syrup, topped with signature caramel cross-hatch and a sprinkle of cinnamon dolce topping to create a delightfully refreshing beverage (also available HOT).
Starbucks Coconut Milk Mocha Macchiato – This new drink features espresso shots poured over coconut milk and combined with a hint of white chocolate mocha sauce. The beverage is finished with caramel sauce in a double crosshatch pattern and a swirl of mocha sauce to create five layers of espresso sweetness (also available ICED).
The idea of "Macchiato" beverages has been around forever at Starbucks. When a drink is a "macchiato" it marked with something on the top at the end.
The ever-popular Caramel Macchiato is marked with sweet caramel sauce, at the end of the drink, on top of it. Once in a while people want it stirred or upside down! I prefer strictly according the recipe, but there is room to customize any "Macchiato" beverage.
The most common Macchiato beverages at Starbucks are:
The Espresso Macchiato (This is just espresso marked with a dollop of foam on top)
The Caramel Macchiato
It is possible you could create your own "Macchiato" type beverage. For example, when the Smoked Butterscotch beverage was available (that's at its end because it was seasonal), you could have, in theory, ordered the Caramel Macchiato, but asked for Smoked Butterscotch instead of Caramel on top, and you would then have created the "Smoked Butterscotch Macchiato". But a key here is that new syrups, sauces, and flavors come and go at Starbucks. These 2 drinks are spring drinks. Even PSL has its time to shine but now it's time for light, sweet, spring drinks.The truth is, the Caramel Macchiato is delicious just the way it was intended, hot or iced.
So you might be wondering what these 2 new drinks look like. Here ya' go: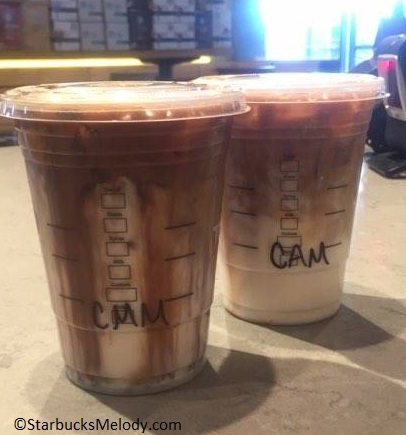 The one with the cup code "CAM" is the Cinnamon Almondmilk Macchiato. The one with the cup code CMM is the Coconut Milk Mocha Macchiato.
The core of these two new drinks is beautiful espresso shots. I thought it would be fun to look back at espresso beverage standards dating to 1990 (click onto the photos to make them larger): You can read a little bit about the macchiato in these ancient Starbucks training documents.
There you have it: Something new and something old: What's new is two delicious new espresso beverage. What's old, and still continues today, is the care and delight that goes into giving you a perfect Starbucks drink!
Related posts