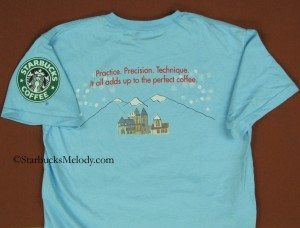 I just got a new t-shirt for my Starbucks promo t-shirt collection!  It is a Starbucks Canada Winter 2010 Olympics t-shirt!  The 2010 Winter Olympics were held in Vancouver, British Columbia, and held from February 12th to the 28th.  About that same time frame, Starbucks celebrated by releasing a limited edition Starbucks card with the "Olympic Village" image, as also seen on this t-shirt.  I assume these t-shirts were promo shirts for in-store partners to wear.  Recently, a partner knowing my soft spot for collecting promo t-shirts, sent me this shirt as a gift.  It was a very unexpected surprise!  Thank you!
One thing to note about the "Olympic Village" design is that neither the word "Olympics" nor the distinctive Olympic rings appear anywhere on the image.  The reason for this is quite clear.  The United States Olympic Committee is known to jealously guard their trademarks.  In the absence of an official partnership/ sponsorship (which most certainly involves big big bucks!), no company may use the trademarked Olympics rings or verbiage.  As I was doing some research for this article, I came upon this University of Massachusetts 2004  journal article which thoroughly discusses the interplay between the Olympics and trademark infringement.  It's a fascinating article!  I thought the case study involving Discount Tire Company was particularly interesting.  Discount Tire Company created a billboard with graphics showing tires placed in the same style as the trademark Olympic rings with multi languages welcoming people to the games.  As is obvious, the United States Olympic Committee sued, and I am assuming easily prevailed.
I've had several past episodes about promotional t-shirts, and I highly recommend reading through these old episodes:
Anyway, I hope you enjoy the Olympics t-shirt!  I have to warn that my blog is definitely going to slow down this month.  I'm just very busy with other things, and I'll have a little less time for writing blog articles.   Don't miss anything that I post!  You can put your email address in the subscribe box which is in the right-hand column just below the coffee cup image,  and/or click "like" on the blog's Facebook page.
Photos taken by Molly of Seattle Custom Framing.
This is an open thread.  Feel free to talk about anything Starbucks-related.  I have heard a rumor that Sugar Free Mocha is going to offered this winter.  Anyone else heard the same?  And of course, coffee conversation is always a great idea.
Related posts