Starbucks Christmas signs from many years ago.
Melody, December 24, 2012
16
2 min

read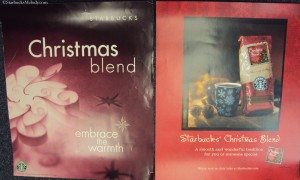 It's Christmas Eve and so it's time for something with a bit of holiday spirit.  I have a few old Starbucks posters that show off holiday signage of years gone by.  I love looking at these kinds of things.
If you'd walked into a Starbucks during the holiday season in 1998, you might have encountered a theme of "Embrace the Warmth," with lots of purple colors and a decorative floral look.  This in-store signage is dated 1998 in the lower right hand corner, and promotes Christmas Blend coffee: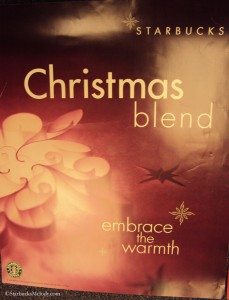 Going back fifteen years ago to 1997, the theme for Starbucks Christmas Blend was "Give the Gift of Uncommon Richness."  I have to say that I love the sound of these two themes back to back:
"Embrace the Warmth, and A Gift of Uncommon Richness," doesn't sound too bad.  I think it would be totally fair for Starbucks to recycle these great Christmas themes.  It has been fifteen years since the inside of a Starbucks has seen these holiday messages.  That's a long time.  I'd be fine with "Embrace the Warmth," as the Christmas theme for 2013 or 2014.  The 1997 signage was ornate and bold: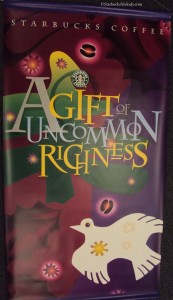 I want to show you what was on the other side of this large Mylar in-store signage.  The other side says, "Starbucks Holiday, Give in to the Rhythm."  I don't know that the Rhythm-side of this poster has stood the test of the time!  It looks very dated to me!  (Though I admit it would have been an incredibly decorative holiday season.)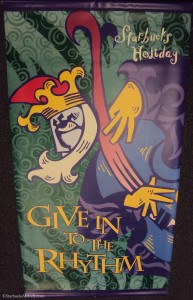 In 2001, Starbucks encouraged customers to "Share a Cup of Cheer," in a very classic Starbuckian-style holiday theme.  Starbucks has used "Cheer" in holiday themes before, and it used to be very common that the Christmas Blend coffee stamp would appear somehow as part of the thematic holiday store decor.  What's funny about this poster is the line that says, "Enjoy now or click later at Starbucks.com."  That somehow sounds funny and dated now, but I suppose in 2001, that sounded very cutting edge!  I thoroughly love this poster too: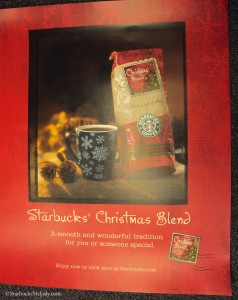 I hope you enjoyed your tour of Starbucks holiday signs from years ago.  I only have these signs from 1997, 1998, and 2001.  If you like, there is a "Holiday" category on this site, and also a "Starbucks History Lessons" category.  I know I get a kick out of Starbucks history lessons.  I highly recommend that you don't miss this 1991 print advertising for Christmas Blend – it is remarkable!
Merry Christmas everyone!
Related posts