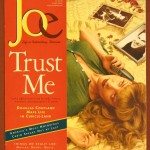 One of the more intriguing chapters in the history of Starbucks is Joe Magazine.  This was a magazine produced by Starbucks in the summer of 1999 in partnership with Time Inc.  There is a good archived Seattle Times article about this magazine here.  Before I talk about Joe Magazine I first want to say that for over a year, I have wanted to write an article about this magazine.  The problem was that I didn't own a copy of it.  I have been looking high and low for Joe Magazine, and was beginning to think that it would be impossible to find a nice copy of a twelve-year-old Starbucks-produced magazine.  Would I have pay a small fortune for it?  I remembered reading a Seattle Times news article that stated that Howard Schultz keeps a rack of these magazines in his office.  I can't find that link at the moment.  I had looked for the Joe Magazine for so long that I was beginning to feel desperate.  Would I have to sneak into Howard's office and "borrow" a copy of the magazine? 😉  I quickly discarded this idea once I ran through the litany of  criminal charges that could arise from such conduct.  Bad idea!  However not too long ago, I finally found one.  Where did I find it?  It was a mere $5.99 buy-it-now purchase on Ebay.  I definitely would have paid more than that!  And to boot, the purchase came with two of the same magazine:  Each of the two magazines have a unique cover though the content inside is the same.  One of the two magazines came as a partner preview version with a letter from Howard Schultz.
Like a previous episode of a failed beverage called Mazagran, Joe Magazine tanked.  After many Google searches, I found this quote by Howard Schultz which apparently is found in a book called Contemporary Business 2009 Update by Louis E. Boone:
"Howard Schultz, founder and CEO of Starbucks Coffee said, 'I took Starbucks into the magazine business with Joe – my idea.  Nobody read it.  Since Joe failed, I've kept a rack of issues in my office so everyone can see the magazine and realize we shouldn't hide behind our mistakes and we should have the courage to keep pushing by not embracing the status quo.  I keep that there as a memento.  It was an embarrassing defeat and we lost a fair amount of money, but sometimes you have to have the courage to fail.'"
Joe Magazine survived through just three issues before Starbucks pulled the plug on it.  A Seattle Times article details that by less than one year after its launch, Starbucks knew that the magazine was not attracting readers.
Twelve years later, the magazine is a fascinating flash back to 1999.  The magazine featured here in this article had the theme of "trust" and the content featured "trust" in both articles and photos.  I notice that some of the content was a little esoteric and abstract.  The content attracted well-known contributors, including  Doug Coupland.  The Coupland article describes the modern office cubicle as a coffin.
Another incredibly interesting thing about looking back at this is simply looking at the ads.  The 1999 ad for a Nokia phone makes me laugh a little!  Phones have changed a lot in the past twelve years!  And notice there is an advertisement for the movie The Haunting.  Don't miss the letter from Howard Schultz to Starbucks partners.  Last but not least, the 1999 ebay ad is interesting too!
Hope you enjoyed this flash back to 1999!  Please tell me what you think.
Related posts