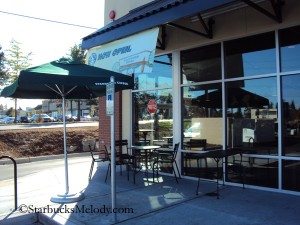 Starbucks has opened a brand new location in Lynnwood, Washington, on August 26, 2011.  It's at 148th and Highway 99, and  the address  is 3624 A – 148th Street S.W., Lynnwood, Washington 98087.  (It's store number 15546, and the phone number is (425) 787 2347.)  This is the second new store in Lynnwood that I've  recently featured on this blog:   The first new Lynnwood store opened in June of this year.
There is a little story that goes with this store visit.  True story:  I had read on the official MyStarbucksIdea.com blogs that Starbucks has announced the released of House Blend Via and Breakfast Blend Via in grocery stores only.  Today (October 8, 2011), I had been out with some friends during lunch, but after that decided I was going on a hunt to find the two new Vias.  (House and Breakfast Blend).  I drove and drove.  I dropped by a Safeway, a QFC, and an Albertson's looking for them, but simply no luck.  None of those stores carried the new Via Ready Brews.  I was aimlessly driving north on Highway 99, thinking about what grocery stores I might find next, and I realized that this was simply unproductive.  I wanted to turn around, and head back south to Seattle, and in the near distance I noticed  the new logo.  I saw a Starbucks.  I decided that I would drop in and then head back home.
I parked and noticed the exterior signage which says, "Now Open" and I realized that I had stumbled upon a brand new store.  I wasn't really looking for it.  I went inside and discovered that it was nearly empty, and indeed it was a beautiful totally new Starbucks.  It is not a Reserve store or a Clover store, but it's a nice new location which a spacious lobby.  From what I could see, it appeared that the drive-through was driving much of the store's business.  I had my camera with me (I had been planning to take photos of the grocery store shelf with House Blend Via on it) and immediately began snapping photos.
A friendly voice called out to me, "Hi ma'am!  Can I get a drink started for you?"  I saw a barista at the register and I said "Sure!  I'd like a grande iced chai."  There was only one other customer in the store (seated in the comfy seats).  I approached the register to pay, and saw that the register barista had "Katy" embroidered on her apron.  She said, "Are you Molly?"
I stood a bit frozen.  "I'm not Molly."  (I wondered for a moment if she was meeting someone here?).  "My name is Melody."
"Oh yes I meant Melody!  Sorry!  We heard you were coming."
I was definitely confused as to how she knew I was going to stop by her store.  As it turns out, the District Manager for her store had mentioned in passing that a 'girl from Seattle named Melody who likes to take photos of new stores may drop by' and it seems that the store had been slightly on the lookout for me.  (The DM took the time to remind the store's partners of the current photo policy, and to advise them that I can take pictures of their store.)
We chatted for a moment longer, mostly talking about Via.  I explained that I was on a quest for House Blend Via, and we also talked about Breakfast Blend Via and Via in a jar, both of which have been released for a quite a while now in the UK market.  In fact, I grabbed some Via for home while chatting with Katy, and then got my drink and continued taking photos.  I was impressed Katy's ambition too.  I learned that she is a shift supervisor, but wants to eventually work at a corporate level of Starbucks as part of the "Star Team."  Before today, I had never heard of this.  She described it as a team of people who work to make sure that new stores all over the world embody the "Starbucks experience."  I definitely think that sounds very cool!
While I was there, one partner pointed out to me the green brick back wall in the area behind the counter as one of her favorite touches.  Very pretty indeed!  And I noticed a scrap book which introduces customers to the store manager and store partners.  I thought that was a really nice touch!
By the way, before I left I went back up to register with my empty grande iced chai cup, and I was debating whether I should just ask for water, or asked for iced coffee as a refill.  Katy, who is definitely knowledgeable, immediately offered to fill my cup with iced coffee.  It felt like she had read my mind!  She went on to explain that a refill of iced coffee, or iced tea is a refill, regardless of the original beverage.  I was totally impressed by her customer service and how well she knew policies and rewards backwards and forwards.  I am totally impressed.
On my way home from Lynnwood, I dropped by a Whole Foods fairly close to home and picked up a few things.  It was a bit of a disappointment to realize that Whole Foods doesn't carry Via Ready Brew at all.
With no further delay, here are some photos which I took on October 8, 2011, at Starbucks store #15546.  I highly recommend that you visit this store!  Very friendly and knowledgeable partners!  (Do not use photos without permission!)
Related posts