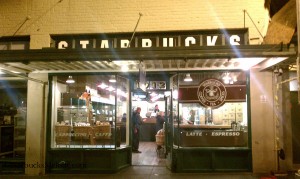 This morning, on my way into work, I dropped by the Starbucks at 1912 Pike Place.   I was running a little early, and to be honest, that rarely happens.  I got a perfect doppio con panna.  Actually, that's a beverage that I do enjoy, but rarely order.  I really do have a small preference for espresso shots from the manual machine, as they have at this store.  Hillary made my drink.  Shelly was on the register.  I chatted with Shelly a bit, who asked me how I was doing, and how work was going.  I realize that when I meet partners who I really like, I partly see that I would like to be more like them.  I mean, I could certainly work on being a bit more "welcoming," "genuine," "considerate," and "knowledgeable."  Well, who couldn't stand to improve in those categories?  Probably I could work on "forgiving" too, but that's not enumerated as part of the Five Ways of Being.  😉 This is turning into an odd blog post.  I better quit now!
I didn't stay too long at the store.  I had to get to work.  Shortly after 7:00 a.m., I stepped out of the store, and noticed the morning light  from behind the store.  I snapped one quick picture.  I was delighted with the photo, and tweeted it this morning.  I decided I would share it here because there really are many people who read the blog but do not follow my tweets.   It's the only photo attached with this blog post – and you can click on it to make it bigger, as usual.  I think most of my pictures are a matter of luck, and as I mentioned, I really liked this one.  By the way, you can see "Chad," the store manager, in the background, standing behind the La Marzocca espresso machine.  There are just a few customers in the store.  Nearby, there is some construction going on with some storefronts on Pike Place, and you can see the edge of that on the very right side (the south side) of the store.
Last but not least, if you do use twitter, I recommend that you follow the Pike Place Market's twitter profile.  Although I write about Starbucks all the time, of course the Market has numerous great businesses to go visit.  There is fish throwing, and fresh flowers, and Mac and Cheese at Beechers, and the historic Seattle's Best Coffee in Post Alley.
Enjoy!
Related posts