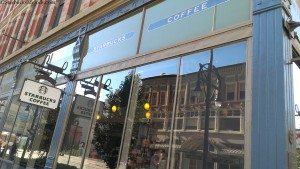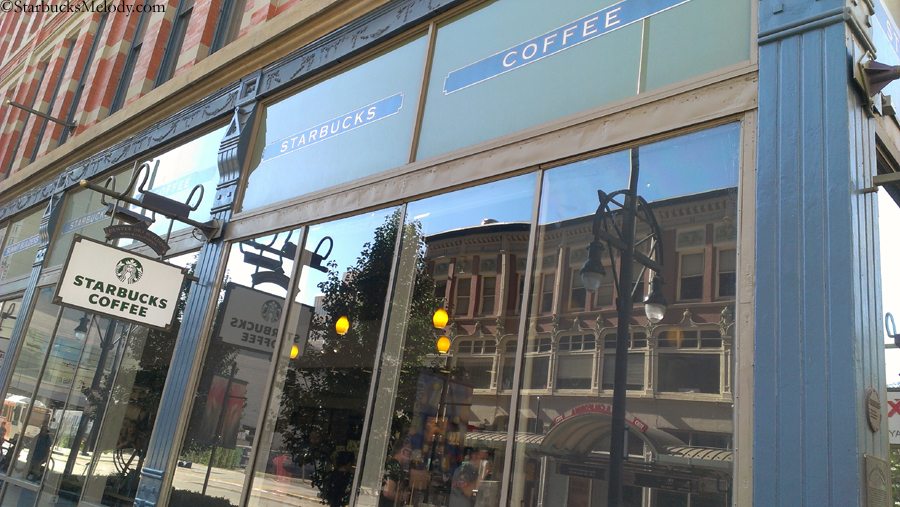 It was only a little after 6:00 a.m., and I walked down California Street, on my way to visit the REI Starbucks.  It was chilly and dark.  I wasn't even sure how I was getting there, but the front desk staff at the Marriott Hotel on California Street mentioned that a free bus runs along 16th Street in Denver, and that would get me most of the way there.   It was only a short walk from my hotel.  I wasn't even sure where to stand to catch the 16th Street free shuttle.  I was super hungry all of a sudden.  When I reached the corner of 16th and California, I looked up and saw an open Starbucks.  I was so happy.
The store was nearly empty.  I think it had just opened.  Downtown Denver is very quiet at just a little after 6:00 a.m. on a Saturday morning.  Evolution Fresh juices greeted me in the RTD case!  A perfect quick something for my grumbling tummy.   I liked the cute little store immediately. It wasn't a Clover store, but I noticed the charming historic building it was in, and that it had a beautiful new logo hanging in the window.  Somehow, this store warmly greeted me.  I pulled out my phone, and started taking photos.  Two baristas were working.
I liked the hanging Evolution Fresh sign, and the dark woods in the store, and momentarily, I was distracted from being hungry by taking photos.
And then, from over the counter, I heard someone call out, "Are you Melody?"
I froze.  Holy shit.  (Please excuse the foul word here.)  Up until a few minutes, I didn't know this store existed.  How does this person know me?  I had to pinch myself for moment, figuratively speaking.  Was I still in Denver?  I was still very under-caffeinated as well.
"Uh, yes, I am Melody,"  I said, approaching the register barista who had caught my attention. "How did you know?"
The register barista wore a huge smile.  I was already falling in love with her.  I am such a sucker for falling in love with people – everyone it seems.  How does Starbucks consistently always hire such friendly people?
"Melody I knew you were in town! You're meeting my fiance Ethan at the REI Starbucks!  I was disappointed that I had to open this morning, and couldn't go to the meeting — And who else is famous for walking into stores and taking pics?"  She said, with a slight jest and delight in her voice.  Indeed, a 7:00 a.m., scheduled appointment to see the REI Starbucks beckoned me on my way.  It tugged at me and reminded me that I couldn't stay an hour here chatting with this barista.  She beamed as she mentioned her fiance, Ethan.  She is one very happy and in love Starbucks partner.
"You must be Rachel."  It hit me.  Sure enough, I already knew this partner from Twitter, the blog, and Facebook.  Rachel then introduced me to the barista on bar.  (Tina? Oh my, I can't recall her name!)  I grabbed an Evolution Fresh juice, and paid with my Evolution Fresh Starbucks Card.
Rachel and I talked for a few minutes.  I learned that Denver had only just launched the Evolution Fresh juices just two weeks before my arrival.  I didn't stay long.  Rachel walked me out right to the front entrance of her store, pointing where to stand to catch the free 16th Street "Mall Shuttle" bus.  I gave her a hug goodbye.
This totally started my trip off on a high note.  As I waited for the bus, I pondered that if I ever did write that book Living in Starbucks Backyard, this would be one chapter of it: Downtown Denver.
Here's the store address:
Starbucks – 16th & California
(Store 10673)
700 – 16th Street
Denver, Colorado
(303) 534 1096
I did drop by this same store at about 3:30 p.m. the same day (September 29, 2012) and tried to get a few photos in the afternoon sunshine, though it was totally packed in the afternoon!   In the afternoon, I bought a Cool Lime Refresher, which was made quickly, and the partners were friendly too.  I bet this little store stays super busy.  This Starbucks has been there six years – its grand opening date was September 1, 2006.
This Starbucks gets two thumbs up from me!
For more articles about Starbucks stores I've visited over the years, click through the Store Reviews category on this site.
(If you are reading this blog post via an email, please re-subscribe!  Or, if you want to get this blog as an email, please subscribe!  You have to actually click through to StarbucksMelody.com and look for the box in the upper right corner of the site, and enter your email address. Please do not try to subscribe by emailing me.  Whether you're new or not, please subscribe using the widget in the upper right corner of the blog!  Thanks!)
Related posts