Starbucks opens its third "beer and wine" store: Madison Park
Melody, May 22, 2011
31
4 min

read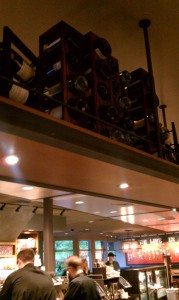 Tonight (May 20, 2011) was the official grand re-opening party for the Madison Park Starbucks.  I was sitting at my desk on a Friday afternoon, and shortly before 3 pm I received an email from a contact person in the Starbucks PR department telling me about the party from 4 to 6 pm.  I arrived quite late, and stayed for about an hour from 5 to 6.  I tried to take a number of photos but the store was packed with people, much like the Olive Way Starbucks party was.  There was live music performed by a band called Jubilee, which was  a great pick.  I liked the music.  I guess I would describe them as soft rock.
At tonight's party we did the traditional thing – had a big coffee tasting, and tonight it was Sumatra Tapanuli.  A delicious coffee, indeed.  I spent quite a bit of time talking to one of my all-time favorite store partners, who (unfortunately for me) was promoted from the stores to the SSC.  I'll call her "Lisa" though that's not her real name.  I told her that I'm working on writing a book, and in her quick wit she said, 'So, you're working on the Other Onward' and we joked that the working title should be "The Other Onward."  Lisa's reasoning was fabulous – it's the customer version of the Onward story.  Of course, Howard Schultz has a built in audience of 200,000 partners and 60 million customers a week.  I might be delusional to think that I'll sell a few thousand copies, but I'm happily dreaming about the book nonetheless.
I chatted with a number of friendly partners whom I know, and took pictures.
I just want to mention a few details about this store:  This Starbucks store features reclaimed wood throughout.  The detailing of the wood is beautiful.  The edging along the bar and retail area features a "live edge" to the wood, which means that it shows off natural contours of the wood.  There is a small kid's area too.  I like the community bulletin board area which is unusually large and includes both a chalkboard and a cork board.  There has been a tremendous amount of care taken in the details of this store.  I like the use of coffee sacks to decorate the stool-style seating in one area of the lobby.  I absolutely love the store's Clover brewer.  Notice that Starbucks has managed to make it color-coordinate with the Mastrena espresso machine!  It's copper!  And of course, it's important to point out the new logo which features the "Black Label" Starbucks logo.  It's black and not green! (I featured a Starbucks with the new green logo in the blog post here about a drive thru store in Kanazawa, Japan.)
This store is a remodel of the existing Starbucks that was there.  The Madison Park Starbucks has a long history since 1991.  At one brief point in its history, it had even been a full service restaurant style cafe Starbucks. There's a news mention of that here in the Seattle Times.
So here are a few photos from the Madison Park grand re-opening party on May 20, 2011:
I went back to this store the very next morning because I wanted to get some photos showing off the store without it being packed with people.  I managed to arrive shortly before 7:00 am on May 21, 2011, and found the store had a small number of customers in it.  I spent about 45 minutes visiting and it really got busier  with customers during that time.  I ordered oatmeal and a Clover cup of Sumatra Tapanuli.  I spent a few minutes chatting with a friendly partner named Jesse.  I learned from him that beer and wine are offered after 2:00 p.m. Monday through Friday, and after noon on the weekends.  The bottles of wine laying flat near the Clover brewer are labeled "14 Hands."  I don't know anything about wine so I can't comment if that's a good wine or not, or anything at all about that brand of wine.
If you want to visit this Starbucks, here's the store address:
Madison Park Starbucks
Starbucks Store 3702
4000 East Madison Avenue
Seattle, WA
206 329 3736
If you're wondering where the first two beer and wine "Black Label" Starbucks are, they're in Seattle, located at the Starbucks on 15th Avenue East, and also the Olive Way Starbucks.  Madison Park is number three.  The fourth beer and wine Starbucks is slated to open early next month in Portland, Oregon.
Okay, here are the photos from early morning Saturday, May 21, 2011:
I hope you enjoyed all the photos of this gorgeous Starbucks and you'll tell me what you think! I heard that Starbucks carefully selected this location with some partners asking regular customers what they would think if their store turned into a store offering wine and beer.  In fact, it seems like a good fit for this neighborhood in my mind.  What do you think?
Related posts