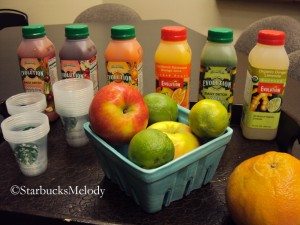 Starbucks announced yesterday that it has purchased the California-based juice company "Evolution Fresh," and will begin opening juice bars in 2012.  The plan is to expand the "Health and Wellness" category by offering very freshly-produced juices.  Right now, Evolution Fresh juices are already available at some retailers like Whole Foods, but soon they will replace the Naked Juice offerings at Starbucks, and they will be available more widely in grocery stores.  Eventually, Starbucks plans to open up a number of juice bars that offer customers an experience in fresh blended juices.  News articles have described this as a chain of stores which would compete with retailers like Jamba Juice.
Glancing at the Evolution Fresh website, it looks like there are about 25 different juices (or blends of juices) that they offer.  There is everything from Pomegranate, to Watermelon, to Vanilla Chai to Magical Mango to Strawberry Lemonade, and many more.  And, from what I can see, the list of 25 juices or so on the Evolution Fresh website does not appear to be a complete list.  I had heard that there are closer to about 36 different juices offered by Evolution Fresh.  From what I understand, Starbucks will showcase six juices that you may find in the refrigerated case at your local store, and of course, many more flavors will be offered in grocery stores and in the juice bars.  My understanding is that not all Starbucks will necessarily offer all six of the highlighted juices, given that many stores are small and won't have the demand for six bottled juices.  At least from what I know (and please be aware that at this early stage, nothing is written in stone) the six flavors to be showcased in Starbucks stores are Orange, Organic Ginger Limeade, Sweet Greens 'n Lemon, Orange Carrot Mango, Essential Vegetable, and Apple Berry.
I had the chance to try all six showcased-flavors today!  They all really do taste very fresh, and have sweet fruit and vegetable aromas.  I found myself wanting to slurp the juices, like in a coffee tasting. 😉  I really liked the Orange Carrot Mango flavor.  You can taste a lot of the carrot, but it's sweet and delicious still.  And I'm glad the other two juices do not overwhelm the carrot juice.  Actually, I would like to see a plain carrot juice offered in the stores.  I will say that the Sweet Greens tasted a bit too much like celery for my liking.  Also, you can definitely taste the cucumber in the Sweet Greens too.  I am not a fan of ginger as a flavor, so the limeade didn't do anything for me.  The Apple Berry has some blueberry flavor to it, and it is really delicious. Actually, you can see what looks like pieces of blueberries in the juice itself.  It was so good!  Surprisingly, the Essential Vegetable was delicious!  Also, I liked the orange juice, but it wouldn't be my first choice because I tend to gravitate towards the juice blends.  The orange juice had some noticeable pulp in it – I liked that quite a bit, but I imagine the pulp in the orange juice won't appeal to some customers.
In many ways, it seems like there will be close to zero disruption to Starbucks stores because the only significant initial change is new offerings in the refrigerated case.  There is a part of me that wonders if we will ever see new Vivanno Smoothie flavors out of this, but it's far too soon to speculate about that!
I like the idea of new juices in the ready-to-drink cold case, and hopefully the new juice bars will be a hit.
By the way, the juices are all pasteurized using a "high pressure pasteurization" process which means that they are never heated.  My understanding is that this is the best way to pasteurize juices to get the freshest flavor, though I'm definitely not an expert on pasteurization, so I don't have much to say about that.
So what do you think of the new juices and plans to expand?  It seems like the Starbucks family of brands is growing in grocery stores.  The acquisition of Tazo gave Starbucks the chance to have a number of tea products in grocery stores, and now this will allow for a number of juice products in your local grocery.  By the way, this is a United States (and maybe Canada?) product only at this time.
Here are a few more photos from my juice tasting at Starbucks:
****
Since Starbucks supplied the juices that I tried, I think I legally have to disclose that in conjunction with this blog post.  All of the juices were supplied by Starbucks for me to try.
Related posts