I dropped by the Safeway at East John and 15th in Seattle today (February 24, 2013), and stumbled upon the new Starbucks bottled iced coffees.  There are four flavors:
vanilla flavor
regular iced coffee and milk
low calorie iced coffee and milk
and a caramel iced coffee (offered in the North East region only)
The Safeway I was at didn't have the caramel one.  So I decided to grab  a bottle iced coffee and try it.  I picked out the Vanilla Starbucks Iced Coffee, and quickly drank the whole thing.  It was delicious.  It has a lot of vanilla flavor and was pretty sweet.  I would definitely get it again.
Look for these at your local grocery store and/or other retailers selling ready-to-drink beverages.
I will say, I noticed one thing about the packaging that looked confusing to me: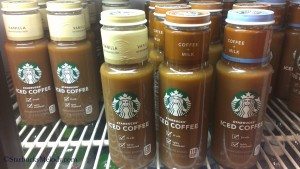 The "low calorie" version of this drink has the blue packaging.  I picked up a couple of times thinking, "Is that decaf?"  It's not uncommon that decaf packaging has blue colors signalling that it is decaf.  Of course, it's pretty easy to read the bottles, but I can imagine that there will be at least a few people who grab at the blue bottle thinking it's the decaf version of iced coffee.  Sure, some readers will say that couldn't possibly happen, but some people just grab at things expecting the packaging to scream what it is.
I turned the three iced coffee bottles around to take a picture of their nutrition facts, for those readers who are interested: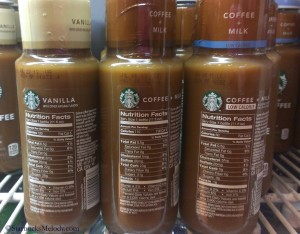 As I was walking out of the Safeway, I dropped by the licensed Starbucks location inside the store.  A Seattle coffee mug caught my eye.  Maybe this "You Are Here" collection of mugs is in every store, but this is the first time I noticed it.  The Seattle "You Are Here" mug design reminded me of the artwork on the 2011 Seattle collectible card.  I will have to be on the look out for more mugs in this series!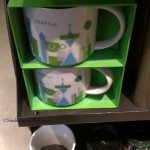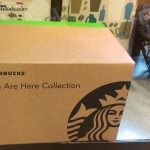 And last but not least, a brown grande-size tumbler also available at the licensed Starbucks caught my eye.  I noticed it says, "Made in the USA" on it.  I know so many people are wanting to see more "Made in the USA" products at Starbucks, and I am indeed noticing it more and more often.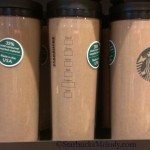 I bought the Seattle mug and the Vanilla Iced Coffee at the Starbucks kiosk inside the store.  I will say that the barista was very friendly.  If you are wondering, the mug was about $10 or $11, as I recall.
That's it.  That's my Starbucks experience inside a Safeway!  This is an OPEN thread.  Talk about anything Starbucks-related.  I realize that is has been a long time since I've designated a thread as an "open" thread, so here is one, finally!
Related posts