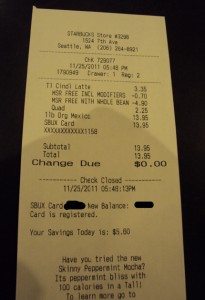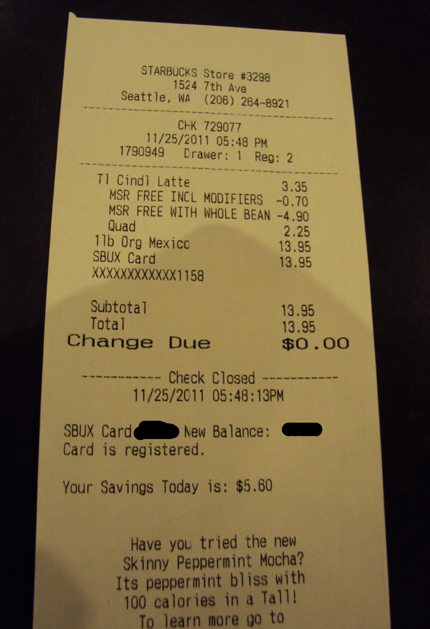 Are you getting your free tall ANY beverage with the purchase of a pound of whole bean or half pound of Reserve™ Coffee?  Starbucks clearly promises in their MyStarbucksRewards program that the customer may receive ANY tall size beverage free when buying a pound of whole bean coffee, or when buying a half pound of Reserve™ coffee.
** Please jump now to the very bottom of this article and take a look at the receipt where the register did not give the perk.  Is this happening in your area too?   Is there a wide-spread register problem?**
Just to be clear, here is exactly what the perk is:
Any beverage (literally any tall beverage) free when buying a pound of whole bean coffee OR a half-pound of Reserve™ Coffee.
This is a "green" level perk – The card must be registered and have been used five times.
The card must be used as the form of payment : There must be money on the card that is used to pay for the whole bean coffee.
Though not in writing, I've always assumed that Smoothies are excluded since they are only available in the "grande" size.
The customer may not take the price of a tall beverage and use it towards a larger size (and higher priced) beverage.
There are definite perks to Starbucks by having this program.  One perk is that it creates loyalty, and especially so  in a time of a recession.  At this point, nearly one in every four transactions at the register involves a Starbucks card.  A registered card with money on it creates a strong incentive to come back to the store.  It creates a database of email addresses to send card-related promotional and advertising information.  It creates a database to help learn about customer buying habits.  And customers load a billion dollars onto registered cards.  In the most recent investor relations quarterly conference call, Starbucks reported that in fiscal 2010, customers loaded nearly a BILLION dollars on registered cards.  That's a lot of money that Starbucks gets on cards.  All of the above things are valuable to Starbucks.  And the fact of the matter is that free syrups like vanilla are not so expensive.  Even a free tall beverage WITH a pound of beans is not terribly expensive to the business. Starbucks loses a lot more in drink remakes, partners giving out free drinks to friends, and other operational waste.
All of the above sounds good, so where is the problem?
It does look as if there is a problem.   I hope that in the comments, I will be proven wrong.  The problems seem to be as follows:
Many partners erroneously think this perk is a gold-level benefit.
Many partners don't know this perk exists at all.
Many partners think that the perk is a free brewed coffee – not ANY tall beverage.
And I've heard of some partners saying that it must be a coffee-related beverage, not ANY beverage.
So why is this important?
The "Starbucks experience" relies on baristas delivering great conversations.  Let's face it, customers don't have feelings for registers.  They like talking to people.  And it is totally human nature to have a conversation about a free perk.  Totally normal.  I guarantee that in every area of retail this happens.  Customers walk up to employees and say things like, "are these socks really 3 for $15?" "Is the denim included in the 40% off sale?"  "Is the dinner salad included in that daily dinner special deal?"  "Is it an all-you-can-eat salad bar?"  "You've got all the soda machines in the eating area.  Can I refill my cup with either iced tea, diet coke, or lemonade?"  "Will my Vanilla syrup be free in my latte?" I've pulled examples from all kinds of retail business, and the point is, these conversations will happen.  These conversations are important.
If baristas deliver the wrong information to a customer, an awkward moment happens.  It's doesn't matter that the register will get it right.  The register can't speak up.  Some customers will feel let down: they were sure that they were entitled to that benefit, and now they won't get that tall drink at all.  This is terrible for the experience!  Some customers might be angry.  True, some customers won't care, but the fact of the matter is that a large number of customers are on a tight budget and will care whether the beverage is free or not.  You can't be angry at people for having a budget.  Welcome to the recession.
So the real question is why is there a problem?  Here are some possible reasons:
Long ago, before the 2008 addition of registered card benefits, there was a perk of free tall coffee – that previous history gets confused with current perks.
There is a separate perk that allows customers to buy a pound of beans in grocery stores and come into the stores and get a free tall coffee – that perk gets confused with current MyStarbucksRewards perks.
It doesn't come up as an issue all that frequently:  Starbucks reports that about 4% of sales are whole bean sales.  And only one in four customers is paying with a Starbucks card.  That means that the issue only comes up possibly a handful of times a day.  There's no doubt, if Starbucks sold more whole bean, partners would face this issue more often.  Though at the scale of 60 MILLION customers a week cycling through Starbucks, that still means that there will be  a lot of opportunity for partners to talk to customers about this perk.
Partners are trained incorrectly.  It could be that one partner who doesn't know the perk tells other partners wrong information, perpetuating a problem.
Signage perpetuates wrong information:  I have seen stores with chalkboard signs that say that you get any tall beverage with a gold card.  This perpetuates the wrong information that somehow you need to have a gold card to get this perk.
The registers somehow mess this up – I am totally baffled why this would happen, but I hear about this often.  If the registers don't give a free drink when it is a perk, the barista who thought she knew the benefits will likely be left doubting herself!
Starbucks does a poor job of getting updated information to the stores.  It was just this year that Starbucks added the perk that you now get a tall any beverage free with the purchase of  Starbucks Reserve™  Coffee.  They've never bothered to update their website.  How can I possibly expect the store partners to know perks if Starbucks doesn't even bother to update their website:
A good friend in Illinois sent me this receipt.  I know this person, and I know he's been a registered card holder for years and years.  I know he's been at the gold level for a long time, and every year since MyStarbucksRewards began.  I am baffled, but the register just didn't give the perk: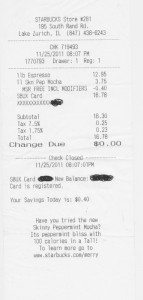 The problem can be the register too.
Please stay civil in the comments.  If you write in all caps, your comment will not be approved.  Do not attack.  If there is ANY personal attack in your comment, it will be deleted.  Discussions end where personalization and attacks begin.  Do not use the insulting expression, "you people …"  And please make a suggestion on how Starbucks could improve this experience, if you can.  Suggestions for improvement are a great idea.
What have your experiences been when it comes to receiving this MyStarbucksRewards perk?  Are the registers a problem in your area?
Lastly, keep in mind that this blog post only pertains to the U.S. and Canada version of MyStarbucksRewards.  I have heard that there are international programs (e.g. China) with completely different benefits, and this blog post does not address those international programs.
*** EDIT:  Take a look at the comments below.  It seems as though the new whole bean packaging is causing a problem when ringing up this perk.  I assume this will be fixed, but at the moment it's causing problems.***
Related posts