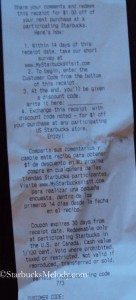 Starbucks news update:  Survey receipts change, and Starbucks to add a Teacher Appreciation card:
Time for a brief news update in the world of Starbucks. Yesterday, April 11, 2012, I dropped by one of my regular Starbucks and received a Customer Voice survey receipt.  Something big has changed!  The survey receipts (once the customer has completed the survey) now offer the perk of $1.00 off your next purchase, and do not offer a free tall beverage.  For a long time, the perk was a free tall-sized beverage.
Just as a reminder, a store's customer voice results are important to the partners, and Starbucks stresses to managers that their customers need to be "highly satisfied," which is the highest rating on this survey.  One takes the survey at MyStarbucksVisit, after having received a special Customer Voice survey receipt during a store visit.
For me, I prefer the $1.00 off.  I definitely grab a quick panani now and then, and I like the flexibility of being able to use a perk on either food or beverage.  Also, with a "tall" sized drink (12 ounces), it never feels like quite enough if you're getting an iced drink.  If I am buying an iced drink, I almost always get a  "grande" (16 ounces) or "venti" (24 ounces).   I've always thought that the free tall drinks probably frustrate customers in warm climates where iced drinks make up a large  percentage business segment.
Also, there are millions of gold card holders already earning free drink coupons.  I know that for me, it feels like I am drowning in free drink coupons.
I recognize that not everyone will agree with me on that, and so I am very curious… What do you think of the change to $1.00 off your purchase?
In other news, a regular reader in Georgia sent me Teacher Appreciation card for my collection.  She said she walked into her local Starbucks (which happens to be a licensed location) saw the cards out, and grabbed one for me, thinking of this blog!  This is the first time Starbucks has offered a Teacher Appreciation card.  As you can see, it says "Thanks, teacher!" on it.
What do you think of the survey change or the new card?  Sorry this blog post is sloppy.  I am trying to quickly type this out before work!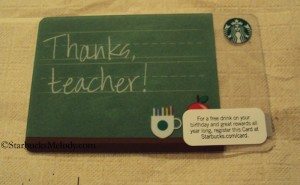 Related posts