I dropped by the Starbucks Reserve Roastery and Tasting Room after work today and ordered a tall pour over of Starbucks Pantheon Blend and a chocolate truffle cookie. A little later, I got an iced tea. It was all on the house. The Starbucks registers are down, as I write this at 7:30 PM on Friday the 24th of April.
The Starbucks newsroom posted this official, but short, announcement. In bold print it says "stores will remain open" but then in the update itself, states the stores are closing early. I don't know which it is. I assume that local district managers will have to make that call.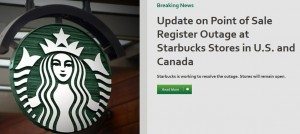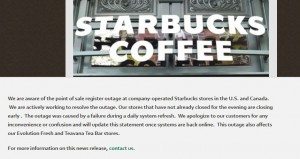 I got an email from a Facebook friend that she was in a store in Bellevue, Washington when the registers went down at about 3:00 PM today. She enjoyed free food and beverage while at the store. From what I can, Seattle stores are generously giving away food and beverage.
I had thought that there was no way I'd write about this topic, but a Starbucks partner whom I've known for years shared his thoughts with me and said things like, "This is an opportunity for Starbucks to demonstrate that they're a generous company." And further he said, "Imagine all the customers we've surprised and delighted – those customer will be loyal to Starbucks."
I liked his way of thinking. I know that Starbucks can absorb this. It's clear that Starbucks is so huge and profitable, they can absorb a lot – such as billions in damages to Kraft. Having said that, I don't want to make light of this situation. Don't think you can walk into a Starbucks right now and walk away with a free pound of coffee. And it's absolutely clear, that five or more hours of registers down across the world does represent a loss. And you cannot walk into a Starbucks and walk out with free merchandise, such as mugs, tumblers, or anything like that.
I do think that Starbucks is taking a high road. While it's tough to watch food being given out, much of it might be thrown out at the end of the evening anyways.
If you are customer, one thing I hope you'll learn from this is that Starbucks will surprise and delight you, and is generous to customers. If you're a partner, trust and know that Starbucks hopes that you'll create great customer moments and that Starbucks will take care of itself. I have no doubt, if they need to shut stores they will. If they need to mitigate damages by limiting free drinks to just iced tea, hot tea, or brewed coffee, they will. If you are a customer, don't be surprised if Starbucks does these things to mitigate loss.
Related posts