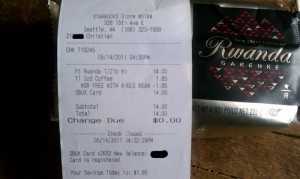 Sometime within the past couple of weeks (I really don't know exactly when), My Starbucks Rewards got a little better:  You can finally get ANY free tall beverage with the purchase of a bag of the premium Reserve coffee offerings, which are only sold in one-half pound sizes.
In the past, I know I was a little frustrated that with the Reserve coffees, this perk was not available.  The Reserve coffees are only sold in one-half pound sizes, and yet are often more pricey than the one pound flavorlock bags of the Starbucks core coffee offerings.
So now you can get a free "tall" any beverage (let me be clear this is not just brewed coffee as a perk) under the following circumstances – the register will automatically deduct the drink:
* Use a registered Starbucks card
* Load money on it
* The card (does NOT have to be a Gold Card!) must be at the "Green" level of perks or higher – Green is very easy to get to, and the registers will know!
* Use the registered card to pay for your purchase of whole bean coffee
* Buy either a full one pound bag of the core Starbucks coffees (meaning Yukon Blend, Gold Coast Blend, Verona, Sumatra, Kenya, House Blend, Pike Place Roast, etc…) OR buy a full one-half pound bag of the Reserve coffees (the Reserve coffees change often and currently Rwanda Gakenke and Sumatra Tapanuli are the special Reserve offerings).
I love this change!  I just wanted to make sure that everyone knew about it!!
And for the record, it looks like this idea is "launched" at MyStarbucksIdea.com:
Free tall beverage when buying a half pound of the premium beans.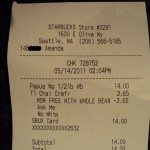 Related posts