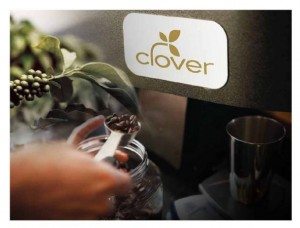 It is time for a blog entry on the delightful world of the Clover Coffee brewer.  The Clover Coffee Brewer has been around as a part of Starbucks for at least two years, and so there is a lot to write about. Thus, I am breaking this up into two blog entries.  August 26, 2008 represent a significant Clover day, because it was a day of wide-spread expansion of the Clover to new stores as well as a change in the marketing materials and a change in the pricing for the Clover. Episode #1 covers the Clover from the very start to August 25, 2008.
The very earliest Clover coffee menus had the following words on the back side of them:
"If beans could speak, they'd reveal the secret of their fuller flavor in this outstandingly smooth cup.  They'd tempt with the nuances of a fine wine, and whisper comparisons to their favorite chocolates and spices.  But the beans only speak through the palate.  So best to taste a pressed coffee yourself.  And have your own silent conversation with the beans." How true these words are to me.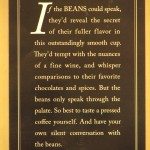 Just a little background on the Clover coffee brewer: It is a single-cup coffee brewing system invented in Seattle, and then later purchased by Starbucks Coffee Company in 2008.  I do not know exactly when the Clover was purchased by Starbucks, but the purchase was announced at the 2008 Annual Meeting of Shareholders on March 18, 2008.
A few of the very early Starbucks Clover stores were at 6th and Union in downtown Seattle and the Queen Anne location.  Personally, I discovered the Clover at the 6th and Union Starbucks, and I still remember that well. January 2008 and my very first Clover cup of coffee was Casi Cielo. However, I believe that Queen Anne Starbucks had their Clover even longer than 6th and Union, possibly. Today, I had the good fortune of encountering a barista with a long Starbucks memory: He helped fill in some of the knowledge gaps I had about Clover. He remembered that his store (Queen Anne) received their Clover brewer "a few weeks before Christmas 2007."  We talked about the urban tall-tale of the "Black and Tan" at Starbucks which now exists only the memories of those early Clover explorers and colonists.  Putting together what I know, with what I learned from him, here is the story of the "Black and Tan":
The Black and Tan was sold late 2007 through early 2008 as a featured drink at any Clover Starbucks (at that time there were literally only a handful of Clover stores – perhaps less than 5 stores).  It was double-strength Italian Roast coffee, with about an inch, or inch and a half, of cappuccino foam, topped with sugar in the raw and freshly ground nutmeg.  In my memory, the Black and Tan was made by the barista making double strength Italian Roast through the Clover (because the Clover has tremendous customization ability, this would not be a difficult thing for a barista) then the barista running to the bar and steaming some milk, followed by the barista topping it with sugar in the raw. The best part of this came at the very end when the barista would HAND GRIND the nutmeg with a real nutmeg grinder and fresh WHOLE nutmeg. The very few original stores with the Clover also received nutmeg grinders! As the barista ground the nutmeg, the aroma of the very freshly ground nutmeg was distinctly noticeable.  As is clear, this was a horribly labor intensive beverage, and I bet baristas were secretly rejoicing when it tanked. And somewhere, there are a handful of Starbucks stores with classic manual nutmeg grinders, now collecting dust.
As per the Queen Anne barista who assisted my research for this story, he stated that in the very early days of the Black and Tan they had a special brewer dedicated to Italian Roast coffee and a separate steam wand set up near the Clover station. (I really do not remember that at all).  Interestingly, at his store he said, "cops loved the drink!" LOL! Sounds like it was a pretty good seller in Queen Anne, at least.
In February 2008, there was still a minimal amount of promo materials for the Black and Tan. I don't have any menu referencing it, and the ONLY thing I have that even mentions this odd creature of a drink is this very poor quality blurry photograph. Click here for the pic. (I am really sorry that I have no good promo images at all of the Black and Tan.  I attempted to get assistance from a couple of people within the SSC for old promo literature with the Black and Tan but I only hit roadblocks.).
I recall being told by a barista at 6th & Union that the Black and Tan beverage was created by Howard Schultz himself, but a caveat here, I don't know if that is really true or not!
I tried the Black and Tan and I remember it was a nice change of pace but it was nothing that made me jump for joy. It was basically a strong brew, foam, and sugar, and an interesting drink to watch being made.
And now on to the fun early Clover menus: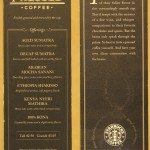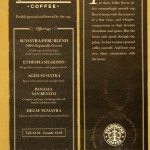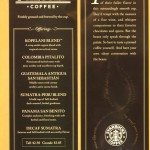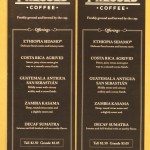 The earliest menus were printed on a very heavy card stock with embossed text! Later versions came on thinner paper. Notice that it didn't take long before Starbucks dropped the backside language that said "If beans could speak …" and soon made both sides simply the coffee menu.
In addition, take note of the pricing for the Clover coffees:  A Clover brewer cup of coffee was charged by size regardless of whether you were getting 100% Kona, Sumatra, or whatever your coffee of choice was. A Tall was $2.50 and a Grande was $3.05. After August 26, 2008, pricing was by kind of coffee, not necessarily size.
I hope you enjoy having the old menus to look at!
Many thank yous to my friend Larry Aldrich of Seattle Custom Framing who took the Clover menu photos for me.  The copyright holder for the picture used at the very beginning of this blog entry (the one with the beans being spooned next to a Clover machine) is Starbucks Coffee Company. (Hopefully they don't mind that I used it).
Related posts