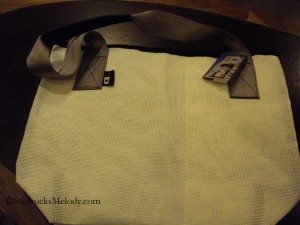 Last month on StarbucksStore.com, Starbucks made available a limited number of tote bags produced from a Starbucks billboard.  Unfortunately the actual link for the tote bag no longer works.  I saw a tweet from one of my favorite twitter profiles (@StarbucksCard) which caught my attention: 300 bags were produced from the billboard.  The photo on the StarbucksStore.com website showed a multicolored bag.  The tweet also had an image of the bag.  Have a look: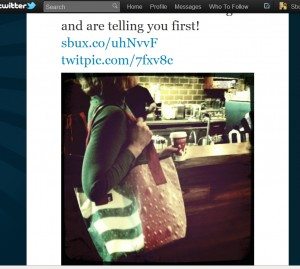 Don't get me wrong.  I think this is a brilliant idea for a Starbucks tote bag.  It is just that with this particular billboard that Starbucks chose to use, invariably a number of people will receive all white tote bags.  I do like my bag, but the solid white ones aren't quite as fun as the multi-colored bags. The tote bag was priced at $20.00, for those who are curious about that.  Here are a few more photos of my solid white billboard tote bag:
I definitely think that Starbucks should do this again.  In 2008, Starbucks had a number of billboards in Seattle, and I thought I would flashback to 2008-era billboards.  These would produce great bags!  (Sorry the quality isn't great.  These old photos were taken on a very old phone.)  The Vivanno billboard runs the risk of producing a few solid white tote bags, but the other two were perfect for this kind of thing!
It's your turn now.  Would you buy one of these tote bags if Starbucks did this again?  What do you think of this idea?  Did any of my readers buy one of these billboard tote bags?
(Last but not least, if you look very carefully at the image that shows the "Home of Great Coffee" billboard, and the image of the billboard used for this tote bag (on the tag to my white bag), you can see that they were both at the exact same location.  The billboard for the tote bag must have come from a site on First Avenue South fairly close to the Starbucks headquarters.)
Related posts