Featured Clover Starbucks: Pacific Place in downtown Seattle
Melody, June 29, 2011
21
3 min

read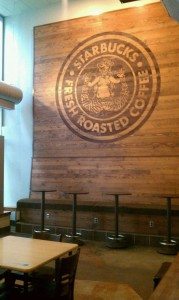 Located in the heart of Seattle's shopping core, Pacific Place Starbucks is a Clover store with a great interior.  Today (June 5, 2011) I did a little bit of quick shopping at  in the afternoon, and afterward I dropped by the Pacific Place Starbucks.  Much to my surprise, it was incredibly slow.  I've been in this store many times, and I know it can get busy.  This evening the store was very slow.  And during the time that I was there, the store emptied out even more.  I took advantage of this rare opportunity to take photos of the store.  The last time I mentioned this store on this blog was a 2009 article called, "Your Guide to Downtown Seattle Clover Starbucks."
If you're visiting downtown and want to go shopping, Pacific Place is sort of the epicenter of the Seattle shopping experience.  You can find everything from Johnny Rockets, to Ann Taylor to J. Crew.  The address of this Starbucks is as follows:
Starbucks store #3261
600 Pine Street
Seattle, WA 98101
(206) 264 1607
Even though the address is on Pine Street, the front doors to this store are actually on Sixth Avenue, immediately across the street from the Sixth Avenue side door entrance to Nordstrom.
This store's original grand opening (long before the Clover and a remodel) was October 28, 1998.  The store has obviously been through a lot of changes since then!  It's a solid store to visit.  I don't usually say this about stores … I might regret writing this … but this is sort of what I would call an "improving" store.  I've been working downtown for a number of years, and this store really caught my radar when it added the Clover brewer in 2009.  I remember a couple of times, eons ago, walking in and feeling like it was sort of a lifeless store.  I mean that it didn't seem all that friendly.  It has always covered the basics, yet didn't have that spark that makes a store a third place.  Over the past six months to one year, it seems like every time I go in, the store is getting better and better.  My own experiences there have consistently been increasingly positive.  I can recall one time recently dropping by at the height of a morning rush, and partners were really giving it their all to make sure that nobody waited too long, and that it was still a great experience.  On that morning, my breakfast sandwich was only slightly delayed, and the register barista offered me a recovery coupon – and addressed me as "ma'am!"  She didn't know that I have a blog.  I didn't recognize her either.
On a slight change of topic, some of my readers might be familiar with Winter, who is on a life-long journey to visit every single company-operated Starbucks in the world.  I'm not that ambitious.  Not even close.   Nonetheless, I realize that I am a smaller adventure to visit as many Clover Starbucks (in the United States) as possible.  That means I need to get to about 200 Starbucks across the United States.  I don't know if I ever will really do that, but you will see me continuously highlight Clover stores.  In addition, at some point I will write a review on every single Clover Starbucks in Seattle.  This Clover Starbucks link includes embedded links to my Clover Starbucks store reviews which includes Starbucks stores in California, one in Portland, in Seattle, and in the Chicago area.  I guess I'm at 10 down, about 190 to go.
Hope you enjoy the photos of this store!
Related posts