New Starbucks for You: Sandy, Oregon & Orange, California
Melody, October 31, 2014
5
2 min

read
It's been a long while since I've featured new Starbucks stores. I want to shine a spotlight on two Starbucks locations:
Tustin & Lincoln Starbucks (#23600)
2734 Tustin Avenue
Orange, California
(714) 685 – 0287
The Tustin and Lincoln Starbucks is new – just opened September 25, 2014. It's planned as a Clover – Reserve location, though during my visit to the store, the Clover hadn't quite arrived yet. (Although it since has received its Clover brewer, and you can get Reserve coffee there and Clover -brewed coffee). Everything about this visit was super fun. The store manager, Lisa O., was expecting me and we had a great time connecting. She is super passionate about Starbucks. She told me about how people from the community coming from all over from Orange and Anaheim Hills, and she was connecting with teachers, students, and professionals and a wide variety of people. Lisa embraces creating inspired moments!
I had saved my bag of Geisha La Ines for a special occasion and this was it! Celebrating a new store was definitely the right occasion. Lisa made it as a French press and it was fantastic. Also notice the beautiful art over the condiment area. Take a look at a few photos from Tustin and Lincoln Starbucks:
Sandy Oregon Starbucks (Store 3373)
36765 East Highway 26
Sandy, Oregon
(503) 668 – 4390
The Sandy Starbucks has just recently moved into a new location. It was down the road in a very small space, originally opened new on February 4, 2002. This Starbucks moved into this beautiful, new larger space at 36765 East Highway 26 on October 23rd.
This is just a stunning store. It's wood and stone with an indoor – outdoor fireplace, and spacious seating. I met a great shift supervisor named Lacy who welcomed me to the store! This was a spontaneous visit to this store! In addition to the beautiful wood trim and design, take a look at the cool "Roast Curve" artwork hanging near the condiment area!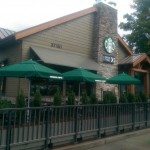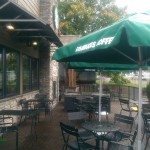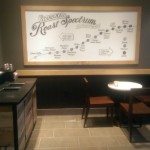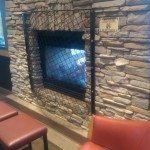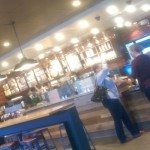 If you have a favorite store that you want to see featured on this blog, take a few pictures inside and out, and email me! Melody@StarbucksMelody.com.
Thank you, and as always, I look forward to your comments below!
Related posts