It's time for my annual roundup from the Starbucks shareholders' meeting!
Before I go any further, I recommend that if you want a lot of solid detail about the many announcements today at the meeting, read the official Starbucks press release here.  It's dense with good information!
The event was today (March 20, 2013), at McCaw Hall, in Seattle.  There are several levels of lobby area in McCaw Hall, and before the actual event starts, people mingle, sample Starbucks products, eat Starbucks food, and generally be social.  It's a wonderful time to walk around and run into a few familiar faces here and there.  Starbucks always has different booths (or staging areas) set up to feature certain products.
Lots of people mingle in the lobby just before the event starts: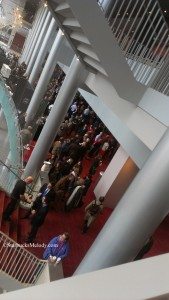 I walked around checking out all the staged areas.  I ran into a familiar face, Alex, who was sampling Evolution Fresh juices: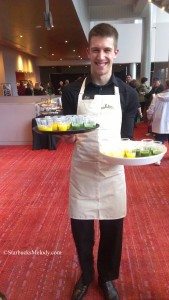 Alex is a super friendly guy whom I know from Twitter.  He has worked in a couple of different roles, and I have seen him in stores too.
EVOLUTION FRESH
I went upstairs to the level that had the Evolution Fresh area, and discovered that the founder of Evolution Fresh, Jimmy Rosenberg, was hanging out there!  We got into an intense conversation about juices, and I think I may have walked away having promised Jimmy that I would drink more Evolution Fresh Sweet Greens.   Ooooh dear!  I least I didn't promise to do a juice fast.  Actually, my favorite Evolution Fresh juice is the carrot juice from the tap.  I walk by the Evolution Fresh store on Pine Street on my way to work, and sometimes grab a carrot juice on my way to work.  Jimmy was extremely friendly, and passionate about juice to a level that was a bit overwhelming.  I'm not his ideal customer.  I prefer to stock up on Girl Scout cookies over green juices.  Yes, I know this is bad of me.  I did promise Jimmy that I would get into some juice routine, so perhaps I'll soon be stopping by the Pine Street store for help with that.
If I haven't been clear, I want to say that meeting Jimmy, and talking with him, was one of the highlights of the meeting for me!  He is a very cool guy, and super easy to talk to.  I instantly really liked him.
LA BOULANGE: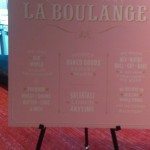 There was indeed a La Boulange display also in the lobby of McCaw Hall.  I noticed that much of the designs feature white on pink.  It certainly made it difficult to read.  This was the first time I have ever even seen the La Boulange-Starbucks pastry bags, so it was new to me!  I suspect that many of my readers are familiar with this already (if you're in the California areas that have already switched to La Boulange foods), but as I mentioned, this was all new to me.
Speaking of La Boulange, during the actual meeting, it was announced that currently the La Boulange pastries are available in about 400 Starbucks stores, and during 2013, the plan is to increase that to 2,500 Starbucks stores.
CLOVER: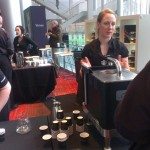 Partners were sampling Isla Flores Reserve Coffee during the event.  I immediately found the Clover area, and recognized Amanda at the Clover.  She is one of the most coffee-knowledgeable people I know!
Of course, I enjoyed the coffee.  I am genuinely a coffee drinker, and that is a good coffee.  And it was fun seeing Amanda again.
ADAM BROTMAN: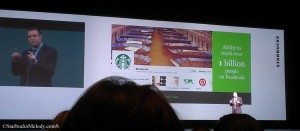 During the actual Starbucks shareholder event, Adam Brotman, the top digital person at Starbucks (and a very nice guy!), presented a lot of information about all the things that are happening in the digital-sphere.  It completely amazes me that now almost one-third of all transactions involve a Starbucks card.  No other retailer can boast that about 30% of their customers walk into their business with a pre-paid card for that business.  And Adam again talked about the enormous advantages to Starbucks having such a large number of customers using a Starbucks card.
This is news!  Beginning next month, the Teavana stores will begin to accept the Starbucks card as a form of payment, and you'll earn stars for your transactions there! (Readers of this blog already know that a person can use their Starbucks card at the Tazo store in Seattle, and the four Evolution Fresh locations, and receive a star for each transaction.)
Starting in May, it will be possible for you to earn a "star" for your coffee purchases while visiting grocery stores.  To be honest, I was not clear how that would work.  It sounded like  you could get some sort of "code" on your coffee purchase that you enter on the website to get your star.  This is one area that I need more clarification on how it would work.  This is talked about in the official press release too.
He mentioned that MyStarbucksIdea is now in its fifth year, and that 275 ideas having been launched from it.
BLAIR TAYLOR: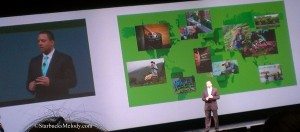 Blair Taylor is the Chief Community Officer at Starbucks.  He presented on the many things that Starbucks does to give back to local communities.  One thing that I thought was interesting was his discussion of "community stores."  These are stores that are set up in more economically-challenged regions, and that donate a significant portion of their profits to local non-profits, with the goal of restoring and revitalizing their neighborhoods.  Currently, Starbucks has three "community stores."  One is in Harlem, one in Houston, and one in Los Angeles.  Starbucks intends operate 50 such "community stores" by 2018.   From what I understood at the meeting, these stores donate up to 50% of their profits to restore their neighborhoods.  That is a significant amount of money!
For the past three years, April has been the Starbucks month of community service.  Blair Taylor announced that this year Alaska Airlines would be partnering with Starbucks, and encouraging their employees in a week of community service also.  This was one area where I would have loved to stop Blair and ask him questions to get more clarity on this.  It would seem that the model of having marquee community service events, and encouraging employees to donate their time, is one that Starbucks is working to get other businesses to participate in.
OTHER NEWS:
Other news from today's annual Starbucks meeting included the following:
Starbucks plans on opening 3,000 new stores in the Americas over the next 5 years.  The United States will account for about 1,500 of the 3000 new stores.
Starbucks currently serves 70 million customers a week.
Starbucks operates in 62 countries, and has about 200,000 partners.
Starbucks spent about 221 million on health-care for partners last year.
That is it for the annual roundup!  As you can imagine, I had a lot of fun!!  I know this is a ton to read, so thank you for your patience.
You might be wondering if there was anything at all disappointing about this event.  I did pretty much walk out on cloud nine.  I felt energized and excited about Starbucks, and the things they're doing.  The only minor (and really the very most minor – please do not read into this!) disappointments were as follows:  I still haven't had the chance to try any La Boulange pastries.  While I enjoyed the La Boulange display, I walked away wishing there had been La Boulange food to try!!  It was a display only.   I assume that soon enough, I will get the chance to try their pastries.  Cliff Burrows didn't speak this year!  Oh well.  Though it would have been fun to listen to him.  And I left so late (one of the last shareholders out the door it seems) that there were no more goodie bags left.  Oh well again.  Such is life.  I would have rather had the opportunity to chat with familiar faces than the pound of Verona coffee and whatever else had been in the bag.  Still, it's a time-honored tradition to leave the meeting with a goodie bag – Starbucks ran out I guess.  Of course, I should be absolutely clear, that all the above amazing fun of the day – especially meeting the Evolution Fresh founder – overshadowed those things!!!  It was so cool to meet him!
I really look forward to your comments!
Related posts