Flashback to Christmas 2007 at Starbucks.
Melody, December 15, 2011
25
1 min

read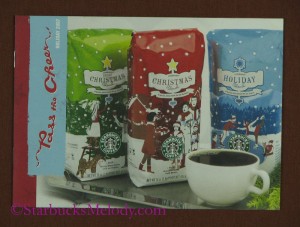 It's that time of year to be excited about the holidays!  I thought I would re-visit Christmas 2007 at Starbucks.  I owe a big thank you to regular StarbucksMelody.com commenter "CD" who sent me this holiday pamphlet.  (It is attached as a series of photos for you.)  The funny thing is that 2007 seems like a long long time ago in Starbucks years.  I definitely remember the chocolate box cards – I think I had bought of a few of those for myself.  And in one image, there are photos of the previous custom cards, which are no longer available at Starbucks.com.  The ornaments featured show off the kind with the globe on top.  And I think that 2007 must have been the last year with a true Christmas bearista bear.  I definitely had bought some of the Espresso Regalo coffee too.  In looking at the photos, I also tend to think it was the last year that you could buy an espresso machine at Starbucks.
So how is everyone's Christmas going?  And I wonder how Starbucks is doing this year?
Enjoy the flashback to Christmas 2007 at Starbucks:
Related posts