I like to do one blog post each year where I review the special holiday food items offered by Starbucks.  This year there is a palette of chocolates, some chocolate peppermint graham crackers, and more.  Here's my review of some of the holiday treats: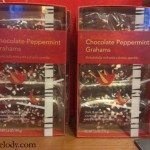 Chocolate Peppermint Grahams – These are delicious!  The graham cracker has just the right amount of snap and crunchiness to it, and the layers of peppermint and chocolate are wonderful.  This is one of my favorites.  There are five individually wrapped graham crackers in red holiday packaging.   Also, these are only $5.95 for the box of five grahams.  Two thumbs up!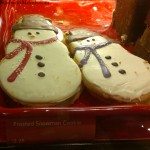 Snowman Cookie – This isn't really designed as a treat to give as a gift, but I thought I'd review it.  The snowman cookie comes with either a red or blue scarf, but there is no flavor difference between the two.  It's a shortbread cookie with a buttery-rich frosting.  I really liked the frosting a lot.  The cookie as a whole has a lot of buttery-ness to it, which is to be expected.  I'm not a huge fan of shortbread cookies, but mine was good.  I think fans of shortbread cookies will love this.  The rest of us might want to just eat the frosting off of it.  Each snowman cookie is $2.25, and can be found in the pastry case.  Mostly two thumbs up!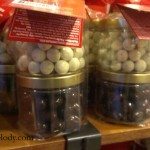 Chocolate Bites – This is two little jars neatly packaged together.  One jar has peppermint cookie bites, and the other has chocolate-covered almonds with gray sea salt.  The salted almonds are not new, and is the same item already available at the register.  I have definitely liked these chocolate sea salt almonds for a long time.  They have just the right amount of sea salt flavor, and the almonds are delicious.  The peppermint cookie bites do taste like a peppermint cookie.  This is a very nice combo, and easily gets two thumbs up.  It retails for $9.95.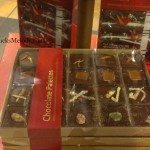 Chocolate Palettes – There are four flavors of dark chocolate squares, either available in a single package of four, or in a larger package with a total of 20 chocolate squares.  The larger package of 20 retails for $14.95.  The orange zest flavor barely has any orange flavor.  It's just not that great.  The salted caramel also is somehow not very good.  The caramel is okay, but it overly dominates the little square.  The third flavor, ginger and peppercorn, … well, I could barely eat it.  I simply don't think peppercorn works with chocolate.  I bought a large set and shared with a variety of people who were at my neighborhood Starbucks.  The register barista, who tried ginger and peppercorn chocolate, made an unpleasant face as if to say, 'Can I spit this out now?'  One customer wanted to try it, so I gladly shared.  She told me she's a fan of this flavor combination, but that the ginger flavor is too light.  The pistachio chocolates aren't bad.  They have a faint salty taste, and are the best of the four.  I'm sorry to say this though, but I just have to give these chocolates two thumbs down.  There are better items out there to grab at Starbucks.  By the way, I have heard Starbucks baristas rave about these, and say they sell well.  Maybe so, but they're just not for me.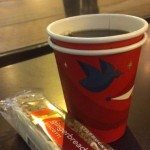 Gingerbread Biscotti – Look for this item at the register.  I have also seen this neatly packaged inside a coffee mug as a gift item idea, but I suspect many people get this for their coffee, and grab it at the register.  It's great for dunking.  It holds its texture well, and quickly gets a little softer when dunked into coffee.  I dunked mine into Christmas Blend by the way, and I thought this worked well with a the bold flavor of Christmas Blend. The frosting is delicious.  Two thumbs up.
I still need to try out the hot chocolate kit which includes marshmallows in it.  I'll report back on that in another blog post.  Until then, hope you enjoy a few holiday treats.
By the way, I realize it's been a long time since I've listed a thread as an "open thread."  Feel free to talk about anything Starbucks-related in the comments below.  This is an open thread.
Related posts