Something blonde is here at Starbucks.  Yesterday, I shared a few tweets from my twitter followers about trying the Blonde Roast coffees for the first time.  Today, we are talking about coffee  tasting experiences.  Starbucks will be doing tastings in their stores nationwide (United States) on January 12, 13, and 14th, and it's dubbed something like, "Find the Roast You Love the Most."  Today, I got a preview of this experience at a 'media outreach' event held at the Olive Way Starbucks. So if you are at Starbucks this Thursday, Friday, or Saturday, you should be able to find a coffee tasting event.  You should absolutely call your store in advance and find out exactly when their event is to be held:  My understanding is that each store has a few designated hours during the day for the coffee tastings.
Thank you partner-Anton Coleman for a great event!  Anton is an expert at coffee tastings, and this blog saw him in action in an event for the Ethiopia Hararr Reserve coffee.
For today's event the pairings were as follows:
Veranda Blend – Vanilla Mini Scone
Pike Place Roast – Bagel with cream cheese
Italian Roast – The Chicken Sausage Breakfast Wrap
I was very impressed with the pairing selections.  I don't think I'd ever realized before how perfectly Pike Place Roast (it is not called "Pike's." There is no "S.") pairs with bread.  This is still not a favorite coffee of mine, but I genuinely did think that the bagel paired beautifully with the Pike Place Roast.  The spicy flavors in the Chicken Sausage Breakfast Wrap worked beautifully with the Italian Roast.  One person in our group thought the creaminess of the cream cheese paired well with Italian Roast.  And I thought that the mini vanilla scone was a great choice to go with Veranda.  I think it will be interesting to see what other things partners decide to pair with the Blonde Roasts.  The iced lemon loaf might be great with Willow Blend.
So here we are at the tasting, just getting started.  Anton is talking about the various coffee flavor profiles: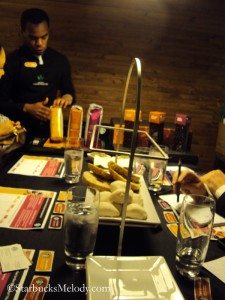 There were about six people in our small group, and we passed an open bag of Veranda around so everyone could smell the beans.  Anton made the comment that he was smelling the aroma of peanut butter.  The power of suggestion at work:  after that I could only smell peanut butter from the bag of Veranda.  I thought it was pretty fun that the team at Olive Way managed to get some unroasted coffee beans for us to look at: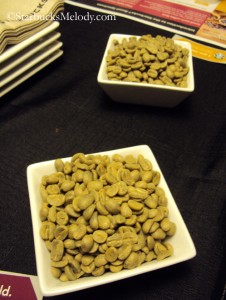 As I already mentioned, the three coffees featured at this event were Veranda Blend, Pike Place Roast, and Italian Roast.  One person in our group noticed that the three bags of coffee are different sizes, yet are all one pound.  You can kind of see what I mean in this photo here: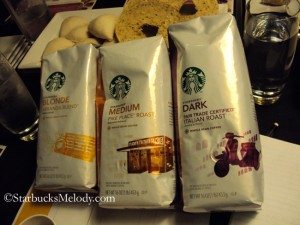 Anton did a great job answering the question why the three bags of coffee are all different sizes.  The intense heat of the coffee roasting process triggers a complex chemical reaction within the coffee bean.  The starches in the bean begin to turn to sugars, and the heating of the bean facilitates the release of the caffeol (or coffee oil).  This release of oils explains some of the shiny-ness that is commonly found with the darker roast profile beans such as Espresso Roast, or Verona.  Because of these chemical reactions, at the end of the roasting process the darker roast beans retain a little less water than a light roast bean that hasn't been subjected to much of this caramelization.  In the end, the darker roast beans weigh a little less than lighter roast beans because of the loss of starches and waters.  It simply takes more beans to make a pound of them because each bean weighs a little less than its very light roast counterpart.  More beans equal a little larger bag!
So here we are a little further along in the coffee tasting event: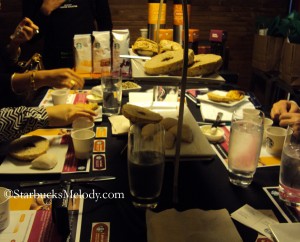 I always love a good coffee tasting, and this was superbly done.  I hope that my readers get to try some of these pairings too.  All of the participants at this event were journalists and bloggers with various websites.  I sat near Keren Brown, who produces the Frantic Foodie website.  I immediately recognized the name of her site because it's a large and popular food blog here in Seattle.  If you're looking for a foodie website in Seattle, I recommend Keren's blog.
The FTC requires disclosure of any consideration in connection with a blog article.  Starbucks provided some food and coffee (and I got a free coffee mug too) and other consideration during this event.  However, the opinions in this blog article are still my own. Heck, nothing is going to make me fall in love with Pike Place Roast!  And I will still prefer the bold coffees (and some of the mediums too) over the lighter roasts.  Having said that, this is a very exciting time for Starbucks.  I do think that launching the blonde roasts makes good sense as a natural extension of the coffee roasting expertise that Starbucks has developed over four decades.  I have heard that Starbucks coffee blending masters tested over 80 recipes and variations before selecting the winning recipes for Willow and Veranda.  Starbucks states that about 40% of customers want a lighter coffee option, and so it makes great sense to draw those customers to these two blonde roast blends.
Thank you again Anton and the team at Olive Way for a fabulous event.  If you like reading about coffee tastings, I suggest going back and looking at previous blog posts such as The Butter Coffee Tasting (Anniversary Blend);  A coffee tasting of Sumatra Tapanuli and Rwanda Gakenke;  The coffee tasting for a partner to earn her black apron – fabulous tasting including Christmas Blend at the 6th and Union Starbucks; and lastly, it's always good to read about coffee cuppings which are a unique variation on traditional tastings and do not normally involve food.
Related posts