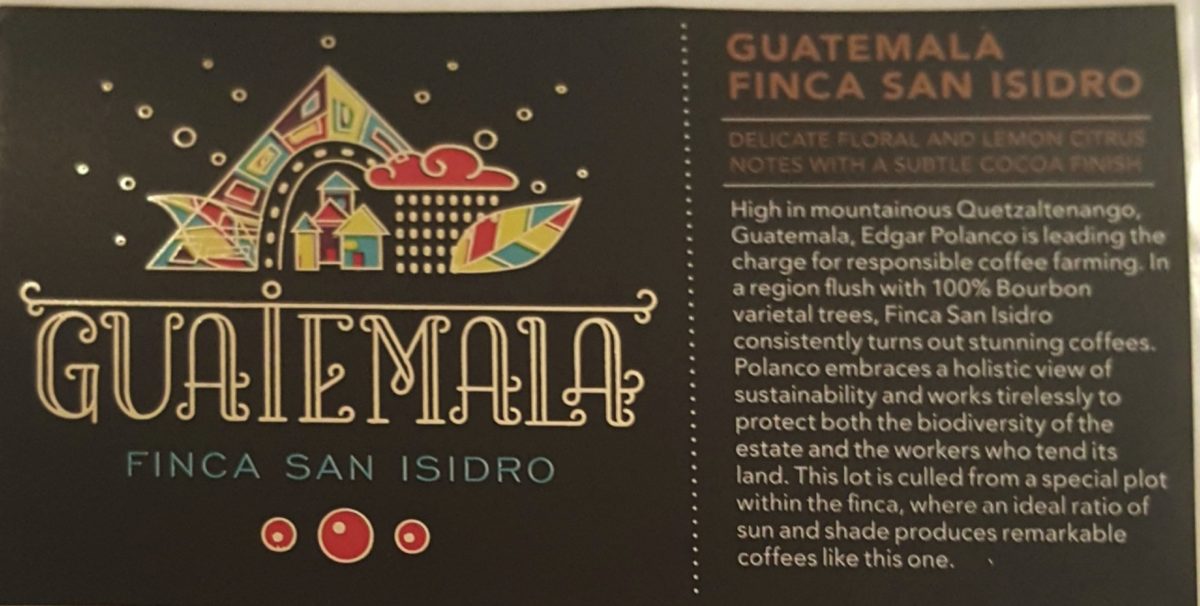 I want to circle back to coffee conversation. I spend so much time writing about test products like the Vanilla Custard Latte or possible changes to My Starbucks Rewards, that I think it's easy to forget that I love a great cup of coffee. Melody's first love is coffee. These pure coffee posts always get the fewest comments, but I promise to have a little bit of everything on this site: and Guatemala Finca San Isidro is a great coffee. It's worth a short article. (No matter how often you see me writing about whatever on this site, always know, I love coffee. Black coffee.)
Before I start, I'm going to make a confession: I almost never brew coffee at home. I've gotten very lazy about brewing coffee at home. If you go to the Starbucks store locator and type in the zip code 98101, you will see that I live in a sea of Starbucks. It's just too easy to walk a short distance to a core Starbucks store or the Roastery and get coffee.
Having said that, I had a great conversation at the Roastery (with Roastery partner Adam Allen) about the Clever Dripper. I've decided that this might be the very easiest home coffee brewing method that there is! And I noticed quite a few Roastery-exclusive coffees on the scoop bar. What sometimes happens is that the Roastery will roast a large amount of coffee to be shipped to the China-Asia-Pacific Starbucks market, and allot some of that coffee to be sold briefly on the scoop bar. So the coffee ends up in flavorlock packaging (old style as that is what China Asia Pacific uses) and a small amount at the Roaster. I wrote about this before when I mentioned the coffee Bali Vintage Klasik.
Guatemala Finca San Isidro is a coffee that is right now briefly on the scoop bar at the Roastery but will be shipped overseas. When I bought the Clever dripper, I made a mental note that the Guatemala Finca San Isidro was one of the coffees I really wanted to try.
I walked into the Roastery today (September 26, 2015) and noticed this sign: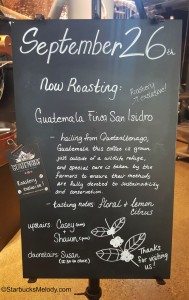 Even better, Master Roaster Shawn had just finished roasting up a batch of this coffee. It was in the cooling tray of the roaster: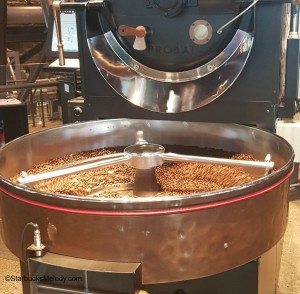 And there were still a few bags of the coffee set aside to roast for later. So I got a chance to see the burlap sacks this comes in: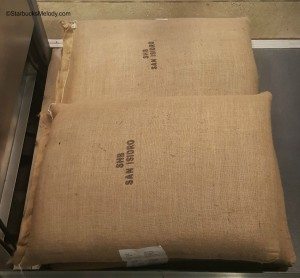 There was some Guatemala Finca San Isidro on the scoop bar that was roasted on September 22nd: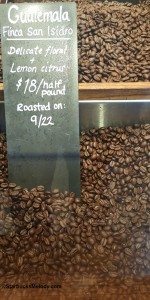 So I asked a Roastery partner to scoop out a half-pound and grind a small amount (enough to make a 12 ounce cup of it with the Clever dripper) for home. It's only four days off of roasting so it's not quite fully degassed. This coffee could be described as a bit of a chocolate-y mouth feel, with hints of lemon citrus.
I rushed home with my coffee and decided to experiment with making coffee at home! Here you get a rare glimpse inside Melody's kitchen. 😉
Starbucks recommends two tablespoons of coffee per six ounces of water. The Roastery-exclusive coffee scoop measures two tablespoons. (It comes in copper and black. I bought the copper version. You can see an image of the black Roastery coffee scoop in this article.)
Here I am, just getting started. I wanted you to see it both ground and whole bean: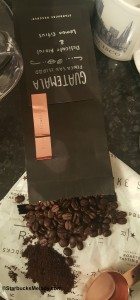 To use a Clever dripper, insert a number 4 size paper filter. Boil water. I scooped four tablespoons of coffee into the Clever, and poured in 12 ounces of hot water. Set a timer for four minutes and let the coffee brew. Once the four minutes is up, simply place the Clever dripper on a large mug and it releases the coffee.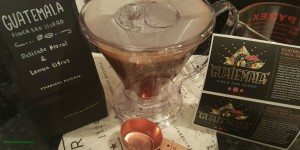 I made a perfect cup of coffee! This was delicious. It's squarely a medium coffee in many ways! It's a medium roast, and medium mouth-feel, with a very slight lingering acidity. I think I would have gotten more of the chocolate notes at the end had I brewed a fully degassed coffee, but I still got some. This was a total success!
If you're not using a Clever dripper at home and you're looking for something even easier than a pour over, this is it!! (It's easy than a pour over because since you brew the coffee for four minutes, you don't have to put any special work to make sure you perfectly poured in the water.)
Just a few things I learned about this coffee and its sticker:
The farmer who operates Finca San Isidro is Edgar Polanco. He's a third generation farmer on that land, which has grown coffee since the late 1800s. The farm is CAFE practices verified. This coffee was grown at an elevation of roughly 5,000 feet. The sticker is inspired by the farm itself, and somehow is supposed to represent three generations of coffee farmer with three leaves/coffee cherries on the front. (I'm not sure I got that right.) The colors of the sticker are inspired by traditional Guatemalan textiles.
Hope you enjoyed this moment of coffee education! You can always follow a little more of my strictly-coffee adventures (or stories) by reading ReserveForward.com.
Related posts