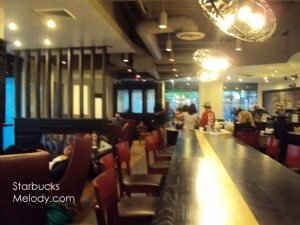 Name a Starbucks that has a fireplace, 2 Clovers, reclaimed wood throughout, a child's play area, and a business meeting room. If you said, "Streets of Woodfield Starbucks in Schaumburg, Illinois," you would be correct. I visited this store on May 29, 2011, and I want to share a little about this store with you.
I didn't get to meet the manager because he was on vacation, though I met "Carl, the Clover master," and Paul Overly, the district manager.  Paul led a really fun guessing coffee tasting, where he put me on the spot and didn't tell me which coffees I was drinking. I got a kick out of guessing the coffees, though sadly, I don't think I earned a passing grade. We tasted Rwanda Gakenke, Sumatra Tapanuli, and Tribute Blend.
This is a gorgeous store.  It's so large that I felt like I needed a map.  😉 I tried to take pictures, and converse with others I'd met up with there, and do the coffee tasting too.  I think I didn't take enough pictures because I was preoccupied by conversation, so I fear the photos below don't do the store justice.  There is tons of comfy seating throughout the store.  On one wall is art work depicting the mechanics of the Clover brewer!  A helpful illustration, indeed!  There is a long bar area with lots of seating.  The outdoor patio is large with nice woven (wicker-like) seating, a step above typical patio furniture.  Throughout the store, fallen trees and reclaimed wood were used for the woodwork.  Some of the columns, as well as the wainscoting, are painted in a black paint which apparently has a fine coffee ground mixed into the paint!  My understanding is that the fireplace and floor tiling were part of the original design before the major remodel, and were unchanged when the store was remodeled.  Notice that the child's play area has a small plastic table shaped like a caterpillar, and a small chalk board.
This Starbucks very first opened February 25, 2000, and was relaunched as a Clover location in March 2010.  This store was the first in the Midwest to offer any of the Reserve line of coffees.  At about 4,500 square feet, it IS one of the largest stores in the Starbucks North America.  It is true that there are few larger stores, such as the newly-opened and highly acclaimed Harvard Square Starbucks (opened May 20, 2011), and also the Riverwalk Starbucks in San Antonio, Texas, which was once a HEAR Music Starbucks.  I recognize that some of this might be disputed facts, but I've heard that the largest store in North America is the San Antonio Riverwalk store about 5,900 square feet, and that the Harvard Square may be a close second.  Both of those two stores are two story.  (You can follow the Starbucks Harvard Yard on twitter here.)  In short, at 4,500 square feet, that's huge and is probably up there as at least one of the largest stores in the United States.
The store is called "Streets of Woodfield" because it is situated very close to the "Streets of Woodfield" shopping mall, which is the largest shopping mall in Illinois.
While I was visiting, I noticed that every little detail seemed to be attended to.  I saw partners double checking the condiment area, keeping the lobby clean, and it looked like the line and drinks kept moving at a pretty steady pace.  This store appeared to be on their game.  As I said, my photos don't do the store justice.  It's a must-see if you're in the Chicago area.  The store is not too far north of Chicago, in Schaumburg.  Here's the address:
Starbucks Store 2344
Streets of Woodfield Starbucks
601 North Martingale
Suite 370
Schaumburg, IL 60194
(847) 605 0476
What do you think?  Do you want to see more stores like this?
Last but not least, I highly recommend browsing through the "Store Review" category on this site.  The store review category is almost entirely reviews and photos of Starbucks stores that I personally have visited.  I have managed to write about stores in both northern and southern California, throughout Seattle and the greater Seattle area, a few stores in Texas (a few in Austin, one in Bedford, Texas, and one in Southlake, Texas), and now a few stores in Illinois.  Makes me wonder where I should go next?
Related posts