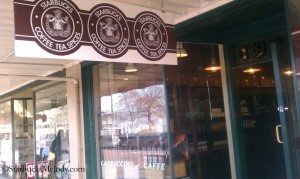 I recently dropped by the Starbucks at 1912 Pike Place, in Seattle's Pike Place Market.  I wanted to pick up some of their limited Pike Place Special Reserve to mail out to a friend, but I found the store much quieter than usual, and so I began taking pictures.  I began thinking about what a second blog article for this store might look like.  My first article about this Starbucks is here:
I ordered a doppio con panna with cubano shots, and lingered in the store.  I found myself particularly enamored with the old whole bean bin displays, and took photos of most of them.  In particular, I noticed that at one time Starbucks must have offered a generic, "Decaffeinated Dark Roast" since there was a bin labeled as such.  I thought that was curious that there was ever a blend without a name and just called, "Dark Roast," and the thought of this seemed very old and very new, all at once.  The bins in the store date back far longer than my memory of the store, and I would say that they haven't really changed since the 1980s.  Now they're for display purposes only, since coffee is no longer scooped from the bins.  Here's the "Decaffeinated Dark Roast" bin: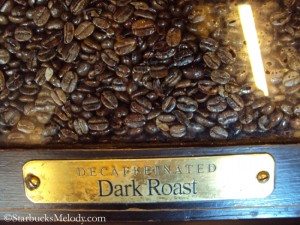 The store was quieter than normal, as I mentioned.  I was a little bit lost in thought, working on a blog post in my head, and thinking about what to say about these display beans.  I hadn't really planned a blog post, and my camera's battery was low.  During my visit to the store, I switched and started taking a few photos with my phone, which are not quite as good quality as the camera photos.
This was a memorable visit to the store.  As I was lost in thought, and writing a blog post in my head, I was jolted back to reality by the sound of a loud customer.  I missed the first ten seconds or so of the conversation, I think.  I saw a customer very loudly telling a young barista, "I wanted a full cup!"  She seemed really angry about it.  A young barista, whose name I do not know, simply said, "I thought you wanted room for cream."  She looked stunned.  The angry customer was incredibly distinctive.  I couldn't help but notice that she hard large tattoos actually ON her face.  While I am TERRIBLE with names and faces, I think I would recognize this customer again.  The customer again got very loud, and began accusing Starbucks of ripping her off, and again exclaimed that she wanted a FULL cup of coffee.  I could see at a distance that the cup had probably just less than a full inch of room in it.  The barista was pretty speechless.  It looked like she was going to grab the cup (and presumably add more coffee) when the angry-tattooed customer said that she wanted speak to the manager.
The barista went and got Kienan.  Actually, I have no idea if Kienan is a Shift Supervisor, or an Assistant Store Manager, or just a barista, but he is not the store manager.  Chad is the store manager.  However, Chad was not in at this time.  Kienan was extremely calm and just simply offered to add more coffee to the cup.  He really did a marvelous job of being polite and genuine, and he simply went and added more brewed coffee to the customer's cup.  The whole thing appeared to end fine, but I was a little surprised at the exchange.  I assume we all have bad days, but the woman with tattoos must've been having a very bad day, and to me, seemed unusually upset about her cup not being totally full.
Back to the topic of the coffee bins:
I neglected to get a photo of the bin labeled "80/20."  Of course that coffee still exists today, but has been renamed "Caffé Verona."  I did take a photo of the Viennese bin which is adjacent to the Sumatra bin.  I've been told that Viennese Blend was actually a blend of House Blend and French Roast, and for many years it was offered as both regular coffee and decaf.
Of course, I should point out that there is no bin labeled "Pike Place Roast" because that is a new coffee blend, first launched April 8, 2008.
There was a bin labeled "Colombia" which is for the coffee Colombia Nariño Supremo.  I should point out that this coffee is correctly spelled, "Colombia" with two Os and no U.  This coffee is no longer available in Starbucks stores in the U.S., but a number of international markets currently do offer this coffee.  A friend of mine was just on a trip to Mexico, and picked up a bag of this coffee for me there!  And I think that some markets in Europe and the Middle East have Colombia coffee.
This store has unique merchandise made just for it, and one recent addition is the cold t0-go cup with the classic Pike Place logo on it: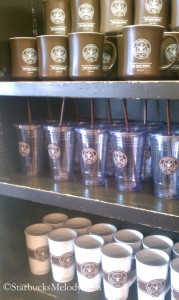 So that was my trip into 1912 Pike Place, and I took all of these photos on January 27, 2012.  Hope you enjoy it!  Here are a few more:
(Edit – Sorry this is an older article that I wrote that has been sitting in my drafts for a while.  Decided to pull it out because I do love 1912 Pike Place!)
Related posts