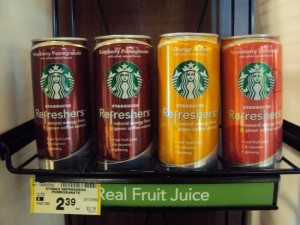 It's been a long time coming, but the Starbucks Refreshers in a can are now hitting grocery stores everywhere in the United States.  Just as a short recap, Starbucks tested a fresh version of Refreshers in stores in Arizona and California.  The barista-made versions of Refreshers came in two flavors:  Very Berry Hibiscus and Cool Lime.  I still prefer the barista-made in-store versions  a little more than the canned versions, but the canned versions are absolutely delicious too.  I mean that!  They really are very refreshing!
The grocery store version comes in three flavors:  Strawberry Lemonade, Orange Melon, and Raspberry Pomegranate.  Starbucks has an official website for the national launch of these, and you can download a coupon from the website too:
When I first heard that Refreshers had been spotted in Seattle, I was pretty giddy.  It feels like I have been waiting for a long time for this to happen. Last July, I wrote about canned Refreshers in Arizona in this blog post here.  One thing that is interesting about that blog post is that you can compare how the design of the Refreshers can has changed.  From what I can tell, the product has not changed, just the design of the can.  It is still a bubbly energy drink that tastes like a cross between a tea and a juice.  However, the extremely unique thing about the Refreshers is that it is made with a green coffee extract.  So at least technically, it is a 'coffee' beverage; however, there is absolutely zero coffee flavor in these beverages.
Here in Seattle, I've only found the Refreshers in a limited number of Safeway stores.  By the way, I do not think these drinks are intuitively placed in the stores.  They're hard to find!  Both times I looked for them, I first went straight to the aisle with lots of bottled and can beverages.  This is not where I've found them.  They were placed in the deli area of Safeway, on a separate display.  Also, I noticed that there is only a warm display of them, and apparently no way to buy a cold can in the store.  I definitely recommend that you look for these, though I am giving the heads up that they might be a little difficult to find.  Last but not least, I think the price of each can is a bit steep.  Safeway has them for $2.39 each, and there does not appear to be any four-pack price.  Just in case you have an Albertson's near you, one partner told me that she found Refreshers at her neighborhood Albertson's.
They are delicious!  My favorite is the Raspberry Pomegranate, but the Orange Melon is a close second.  What do you think of them?  Have you tried them?
Related posts