As is tradition, I am writing a roundup from the annual Starbucks Shareholders' Meeting held today, March 21, 2012.
Before I talk about the presentation by the Starbucks executive team, I would like to mention the slide show before the meeting began.  As I sat waiting for the meeting to start, I enjoyed the slide show presentation.  I had only my phone with me, and didn't have a totally unobstructed view of the slides, but this gives you an idea of what the audience watched, awaiting the beginning of the meeting:
There were a number of presentations throughout the meeting. Here are just a few snippets:
Jeff Hansberry, the President of Starbucks Channel Development,talked about the launch of Refreshers in the CPG category.  ((I previously wrote about them here.))  Refreshers freshly-made in Starbucks stores launches July of 2012.
Jeff Hansberry also demonstrated the new Verismo automatic home-use espresso machine.  He described the Verismo as a "game changer," and said that the premium single cup area is a fast-growing, 8 billion dollar market opportunity.
Also from Jeff's presentation, he stated that Via Ready Brew has become a 250 million dollar business over the past two years, and is now available in  12 markets.
Jeff talked a little about the growth of Seattle's Best Coffee and the new drive-thru concept SBC stores.  He mentioned that at SBC one can order a caramel pretzal mocha latte, which certainly sounds like an interesting drink idea.  ((I would have liked to have heard more about Seattle's Best growth.  One thing that makes Starbucks part of the cultural wallpaper of the U.S. is the "universal experience" which is driven by having so many stores and a high degree of consistency.  Seattle's Best Coffee lacks that.  Most folks in the U.S. (likely) have never been to an SBC store, and do not have one near them.  Even worse, Seattle's Best has fewer stores now than previously, largely due to the closure of all the Border's Books stores.  Just as a reminder, my Seattle's Best fan blog is here.))
Arthur Rubinfeld talked at length about Evolution Fresh.  Since I just wrote about Evolution Fresh yesterday, I won't repeat that again.  Arthur managed to say the city name "Bellevue" numerous times within his short presentation.  It was very much as if he was subliminally saying, "What are you doing here? Get yourself to Evolution Fresh in Bellevue!"  ((By the way, as many folks know, this blog generates a lot of email.  One of my readers is already looking for collectible Evolution Fresh cards!  I thought that was great!))
There was an announcement about a new "Vote. Give. Grow." Starbucks Card which will allow registered card holders to vote on how 4 million dollars will be invested in a select number of non-profit organizations.  The new card starts on April 1, 2012.  ((Sorry, I don't recall which executive made that announcement.))
During the Q & A session, Howard Schultz revealed that Starbucks has been looking intently for high quality mug manufacturers in the United States to partner with.  It seems as though there are very few options because most mug manufacturing has been shipped overseas.  Starbucks found a partner in Ohio, and hopefully sometime during summer 2012, "made-in-the-USA" ceramic mugs should appear on Starbucks' shelves.
Michelle Gass, President of Starbucks Europe and Middle East,  rocked the stage with high energy about the "renaissance" of the Starbucks European experience.  She talked about the change to the UK standard recipe for a tall latte, which now automatically comes with two shots in the U.K.  She also announced that in France, Starbucks is offering two different espresso options.  From what I understand, in France, a customer can order a "lighter" espresso roast shot.  I haven't seen much about this in the news, but it is briefly mentioned in this article here.
Michelle talked a bit about the new Amsterdam concept store.  It has a Clover, and from the photos shown, it appears that the baristas are using some kind of manual espresso machine.  The store's design is stunning.  ((I would give my right arm for a trip to Amsterdam to go visit this store, but it's not in my budget.))
My phone's battery died not too long into the meeting, but I did get this photo of Michelle.  (Move over Howard.  Michelle rocked. ;))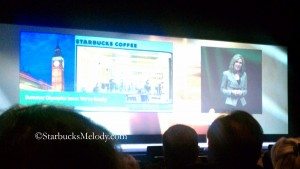 Hope you enjoyed this window into the annual meeting!  What are your thoughts?
Related posts