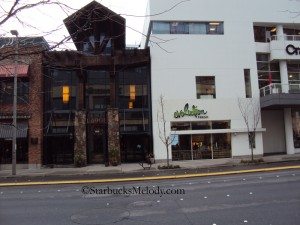 Starbucks has opened up their first Evolution Fresh juice bar.  Yesterday (March 19, 2012) was the grand opening day.  I decided to go check it out this morning!  I arrived at about 9:00 am (on March 20, 2012) and fortunately there was a short lull in customers so I could take some photos.  The Evolution Fresh bar is a small space located immediately next to the Starbucks in Bellevue Square.  (That Starbucks is known as "The Lodge.").  The space used for the Evolution Fresh was once part of the seating area for the adjacent Starbucks.  I can definitely remember when that was one very large Starbucks store.   Once upon a time, that was a Hear Music flagship Starbucks store!  Since the store was a flagship concept store, it was originally much larger than a typical Starbucks.
The space that now occupies Evolution Fresh was the area that had all the CDs for the Hear Music store.  You can get a bit of sense of what it looked like as the Hear Music Starbucks in this photo: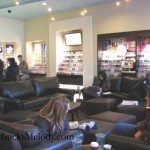 The wall which once has a ton of CDs to browse through now has the lunch and dinner offerings available at Evolution Fresh: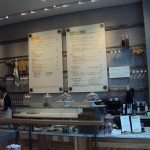 It might be hard to see in the above photo, but the above signage states that the store offers Starbucks Pike Place Roast coffee available as a Pour Over.
The store is set up with two areas to order:  One area is just for juices only, and the other is the breakfast and lunch line.  The juice area has one of the most eye-catching digital menuboards I've ever seen.  The display changes frequently showing off fruit and vegetable images.  However, if at any time a customer wants to look at just the menu, the customer presses a button at the counter.  So, here is a series of photos to try to explain what I mean about the menuboard:
One more curiosity that I have to  point out is the Evolution Fresh bicycle.  I asked about it, and apparently Evolution Fresh is ambitiously thinking about a small local delivery option.  I don't know how that would work.  What I do know is that the bicycle makes a great photo prop!  While I was there, I ran into several familiar partners all checking out Evolution Fresh too, and they were having a good time taking photos of the new partner face of  "Evolution Fresh delivery."  Somewhere out there, there is an adorable photo of a partner named Heather as the face of Evolution Fresh bike delivery.  Be sure to check out this bike!
(Edit: In reading the comments to this article, I realize that the bike was built by Metrofiets, a bike company based out of Oregon.)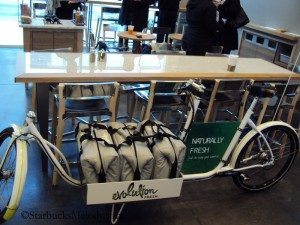 I ordered a carrot-apple-banana-cinnamon smoothie type beverage. It only comes in a 16 ounce size.  I couldn't finish it, but apparently it may be possible to order one drink and split it into two smaller cups, as I did see someone around me doing that.  It was definitely a delicious smoothie.  It appears that there are several freshly pressed juices 'on tap' that were pressed at Evolution Fresh's main processing facility.  Also in the beverage area is very large number of fresh fruits which are then added into the juices (and blended, obviously) to create delicious smoothies.
By the way, I discovered while I was there that you CAN pay with your Starbucks card!  I was quite surprised about that.
If you want to visit, here is the address:
Evolution Fresh
545 Bellevue Way
Bellevue, Washington
425 453 1089
I've heard lots of rumor about the site of the second Evolution Fresh scheduled to open up, and will be in downtown Seattle.  I cannot wait to be able to write about the next store which should be very close to home for me. 🙂
Here are just a few more photos from today's visit.  Enjoy!
Related posts