There are few good deals happening now at Starbucks, and I thought you might be interested.  Lots of people want to save a little money when they go to Starbucks.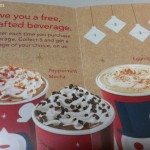 1. Holiday Tasting Tour Booklet – Buy 5 holiday drinks, get one free.   After you buy five holiday beverages (Caramel Brulee Latte, Gingerbread Latte, Eggnog Latte, and Peppermint Mocha), you can get your sixth one free.  The free one is for a "Grande" size drink.  You collect  a little red sticker, and place it in the holiday tasting booklet.  This promotion runs from November 19, 2012, through January 2, 2013.
Of course, if you are paying for your holiday beverage with a registered Starbucks card, you're still earning a "star" for that beverage too.
2.  CyberMonday – I've heard about Cyber Monday, but haven't seen any official materials on it.  It appears to be a promo for StarbucksStore.com.  Spend $60 at StarbucksStore.com, and receive $20 off your order, valid on Monday November 26, 2012 only.  From Twitter, I've heard that this includes free shipping as well, but don't have any official word on that yet.
I might pounce on the "Cyber Monday" offer.  There are several items at StarbucksStore.com that I've been eyeing  for over a week.  In particular, I really want this Puerto Rico coffee, available as an online item only!  I've had Starbucks' Puerto Rico coffee before, and I know it's a nice treat.  Actually, I now need a grinder at home, and I've been eyeing this one here.  The one thing I really wanted sold out super fast.  Starbucks briefly offered a 2012 collectible holiday ornament bedazzled in crystals, available only on StarbucksStore.com.  Sadly, it sold out quickly.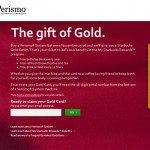 3.  The Verismo has the Golden Touch:  Black Friday Gold – Starbucks Gold:  Starting on Friday, November 23 through Monday, November 26, customers who purchase the Verismo™ System by Starbucks at participating stores will receive instant Starbucks Gold Card status and all the delicious benefits that come with it.  Once you buy the Verismo machine, you'll need to go to www.Verismo.com/Gold and input the serial number on the bottom of the machine.  The website will walk you through the steps of instant gold!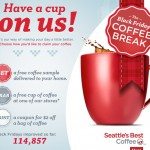 4.  Free 'Black Friday' Coffee from Seattle's Best Coffee – There is more than one way to take advantage of this free coffee offer.  If you're out on the day after Thanksgiving, and drop by a Seattle's Best Coffee, you can enjoy a free 12-ounce brewed coffee.  If you go to the Seattle's Best Facebook page, there are two other ways to participate – you can also get a free coffee sample sent to your home, or print out a coupon for discounted packaged Seattle's Best Coffee at the grocery store.  (Oh yes, and I would love it if you would take a look at my Seattle's Best Coffee blog and "like" it too.   Thanks.)
Enjoy your special Starbucks offers!
Related posts