On February 19, 2012, I announced the second StarbucksMelody.com contest to find barista-created art on chalkboards on display inside Starbucks stores.  It has taken me a while to go through the emails, but here we have the entries and winners.  At the end of this blog article are a few of the "non qualified" entries that were submitted to me.  Unfortunately, every single time I do a contest (it almost doesn't matter what the contest is) I will always get a number of entries that didn't quite comport with the stated rules, and some of those with emails acknowledging such, and some not.  Having said that, I am eternally thankful for the great participation in this contest!  I know it wasn't easy to find chalkboard art.
So here is the art that all of you – my readers – sent me.  Thank you!
It was extremely tough to look through the above 33 images and make a decision.  I really appreciate every single one of the above chalkboards.  I still maintain that the chalkboards in a Starbucks store represent one of the few ways that a store gets to put some stamp of their own personality in the store.  Even if I look at something and think, 'That's odd.  I don't get it'  I still appreciate seeing it.
Judging from the emails I received, mostly partners responded to my call for chalk art.  There certainly were a few customer entries too, (the contest was open to both) but seeing that overwhelmingly partners emailed me, I did think for a moment that there are a lot more people who could leave blog comments who don't!  LOL.
Here are the three winners:
1) Veranda Basket Sign – Honolulu, Hawaii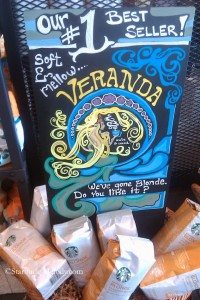 The Veranda sign has so much charm.  The Siren looks great with a cup of coffee in her hand.  I love all the blue and yellow colors which look to me like it would fit perfectly in Hawaii.  And it's very ornate, with beautiful lettering too.  Thank you to Honolulu, Hawaii for sending this in!
2)  Espresso Sign – Kingston Upon Thames, London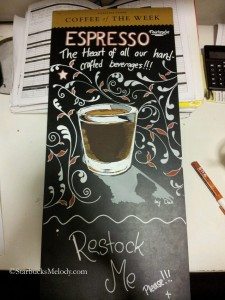 This quite an amazing shot of espresso!  There is something about this sign that makes me want to grab the shot glass of espresso and take a sip.  It looks so very real.  And I like the ornate work surrounding the shot glass.
3) Tribute Blend – Create Community Change – Michigan
This is so beautiful that I am almost at a complete loss for words.  I love the community service component tied to Tribute Blend.  And the artwork here is incredible.  The artist here clearly gifted!
******************************
Thank you everyone for sending in your pictures.  I can't say thank you enough.  PLEASE do not hesitate to email me about getting your $50 Starbucks gift card in the mail.  If for any reason you think I need your postal address, or you just want to confirm your mailing info, email me at Melody at StarbucksMelody dot com.
If you like partner-created art, I have a category of it here.  (You may have to dig a bit through that category.)
Below are entries that were "unqualified" for one reason or another.  I had indicated that to be eligible to win, the sign had to have been on display within the past 90 days.  For that reason, when I saw art for Anniversary Blend, and other certain coffees, it was automatically disqualified and overwhelmingly, the art work below was outside of 90 days.  However, I only listed certain number of countries as eligible, and so the one entry below from Poland was not eligible.
I guess at the rate I am doing this contest, we'll be repeating this again in 2014!  It's an overwhelming contest to put together.  By the way, for the winners, I'm sending the prize on the limited edition Pike Place store gift card.  I've heard those gift cards are no longer produced, and what's left in the store is it.  Hang on to that card!  It is collectible.
Other entries:
Related posts