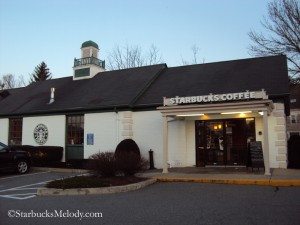 As regular readers of this blog know, I'm on a journey to write about as many Clover Starbucks locations as possible.  Next stop:  Lexington, Massachusetts.  I visited this store on March 27, 2012, and had a chance to meet up with the store's manager, Adam.
This was one of five pre-scheduled store visits on my trip to Massachusetts.  It was also the first of all the store visits, so it is the first one that I am publishing at StarbucksMelody.com.
I had planned to get to the store fairly early in the morning.  In fact, I generally try (though I don't always succeed!) to arrive at a store before 7:00 a.m., because generally speaking, I prefer to take photos before the store is extremely full of customers.  I actually made it in the door shortly before 7:00 a.m.
On this Tuesday morning, I arrived and quickly struck up a conversation with Dave, the shift supervisor on the floor at that time.  It seems as though I arrived shortly after boxes and boxes of inventory came in.  Also, there was a ladder in the lobby near the windows.  Dave explained to me that the store had had a broken window shade, and that a repair man had arrived shortly before me to fix the window shade.
In the time that I hung around taking photos, and eating my oatmeal, Dave very efficiently was putting boxes away, and in no time, the lobby looked great.  If I had arrived just an hour later (or maybe even less), I would have missed both the repairman and the inventory.
I thoroughly enjoyed my visit.  Dave, as I learned, is trained as a paralegal, but loves the rewarding work in Starbucks, and genuinely enjoys connecting with customers and learning about coffee.  His favorite coffee is Komodo Dragon.  He immediately put me at ease, welcomed me to the store (with a winning HUGE smile!) and let me know that the store manager would be by shortly.  And indeed, Adam arrived not too long after I got there.
I chatted with Adam, who started with Starbucks in 1999.  We had a good laugh talking about Tiazzi blended beverages.  Adam distinctly remembered them.  He has been the manager of 60 Bedford for almost 8 months.  I love his attitude.  He told me that he "starts the world running on the right foot." In the course of our short conversation, he mentioned that when the store launched Blonde Roast, he and a few partners took a couple of travelers of it to the nearby fire department to be more involved in their local area, reaching out to their community, and introducing them to Blonde Roast.
The store has a lot of great partner art in it!  It turns out that one of the baristas, Nikki, is very talented at doing the chalk art signs for the baskets of coffee.
There is local art from the community hanging on one wall, which is something that I always think is a nice touch.
It appears to me that the store is due for their "major" remodel, so I hope that a year from now I can come back and do an update article on it.  Hopefully then it will feature a beautiful new interior.
This store first opened brand new on October 2, 2000.
And if you want to visit, here is the address:
Starbucks store #7553
60 Bedford Street
Lexington, Massachusetts
(781) 863 – 1189
***
I have a number of things I want to write about in April, and a total of 6 store review articles from this trip to Boston.  I definitely do not want to publish 6 store review articles back to back, so they'll be spaced out during the month.  I know a few folks are waiting for certain articles to get posted, and it will all happen sometime this month.  Sorry, if you're waiting for a specific article to get written and published.
***
Hope you enjoy the photos, and if you have been to this store, definitely chime in!   (Or just chime in anyways. :))
Related posts