The ECCC (Emerald CIty Comicon) Inspired Frappuccinos.
Melody, April 9, 2016
1
1 min

read
This weekend is Comicon in Seattle. It's a weekend event at the Washington State Convention Center focused around comic book characters. Each year, the Starbucks stores near the Convention Center feature an ECCC-inspired Frappuccino. Last year, it was "The Groot" Frappuccino. This year, it's a duel between a Spiderman-inspired or a Batman-inspired Frappuccino. I went with Spiderman Frappuccino which is a Vanilla Bean Frappuccino, add Strawberry, Toffee Nut, Protein, Raspberry, and is finished with a Raspberry whipped cream, and Mocha drizzle: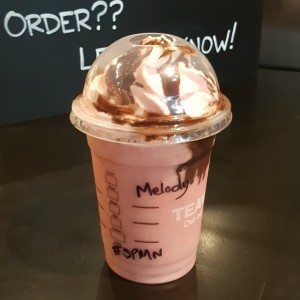 Toffee nut, strawberry, raspberry, and protein all work really well together. It's a sweet and delicious strawberry shortcake light dessert. Unfortunately, I can't drink these all the time, but I did enjoy mine!
It's also pretty fun to see the chalkboard art featured at Starbucks stores near the Convention Center. Partner Regan gladly told me he's the artist that did this creation – Looks great!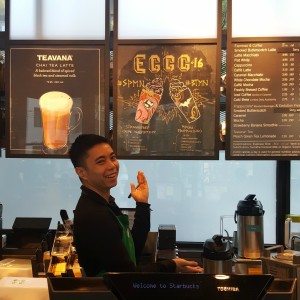 And I noticed that one store has a Batman sandwich board out front. The Pacific Place Starbucks also had a great chalkboard: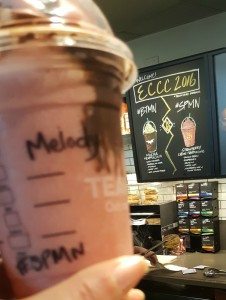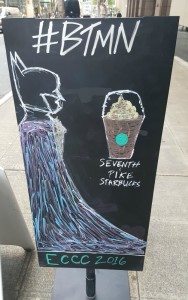 Enjoy your beautiful weekend and Comicon, if you're there. It IS a gloriously beautiful day in Seattle today!
Related posts