Look at what MyStarbucksRewards sent out: Free Evolution Fresh juice
Melody, May 16, 2012
34
2 min

read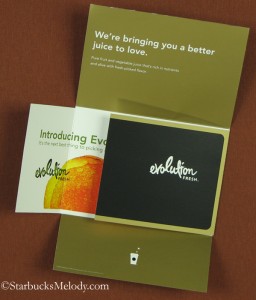 I recently got a coupon in the mail for a free bottled Evolution Fresh juice at Starbucks.  I thoroughly enjoy coupons for freebies courtesy of MyStarbucksRewards.com.  It's been a long while since I've gotten such a coupon in the mail!  I have to assume that this particular freebie coupon was only sent to a very small number of people:  the bottled Evolution Fresh juices are not nationally launched yet.  They're everywhere in Seattle, and perhaps most of the greater Seattle area, but so far it is still a limited launch.
By way of reminder, on April 17, 2012, all Seattle Starbucks began selling Evolution Fresh bottled juices.  Naked juices are no longer available.  I totally see this as an improvement.  Personally, I was a little bored of the Naked Juice flavors, and I welcome the deliciousness of these juices.  I am totally surprised at how much I like the "sweet greens'"one.  Celery and lettuce are not usually my style for a juice.  I especially like the Carrot Orange Mango flavor too.
The in-store flavors of Evolution Fresh juices are as follows:
Sweet Greens and Lemon
Essential Vegetable
Carrot Orange Mango
Organic Orange juice
Pineapple Coconut Water
Mango and Fiber
Right now there is one Evolution Fresh store in Bellevue, Washington, and a second store planned in downtown Seattle.  I can't wait for the second one to open up.  Just as a reminder, when you are at an Evolution Fresh store, you can pay with your registered Starbucks card and earn "stars" in MyStarbucksRewards.  The cards are seamless between the two businesses.  You can register your Evolution Fresh card and use it as a form of payment at Starbucks stores.
As is tradition, I write a blog post every time I receive a MyStarbucksRewards freebie from Starbucks.  If you want to browse the whole category on the Starbucks card and loyalty programs, click here.
Did anyone else get this?  I think it is probably unlikely that very many people reading this received this coupon, since it was likely only sent to a very limited geographic region.
Related posts