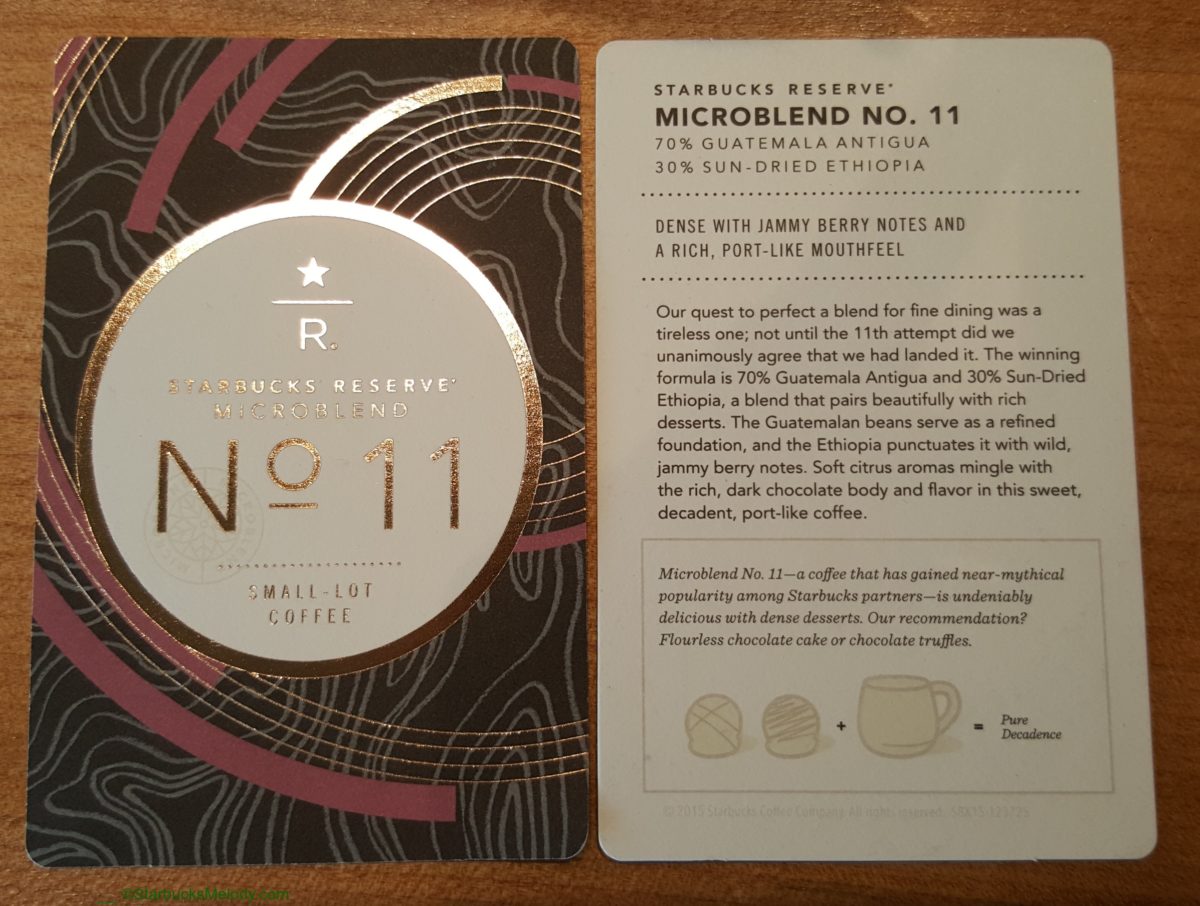 The Elusive Starbucks Reserve Micro Blend #11
Melody, July 12, 2015
10
4 min

read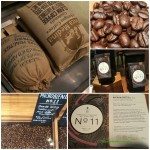 There is one Starbucks Reserve coffee that is almost a myth, but not quite. It's the Starbucks Reserve Micro Blend No. 11.
This is the coffee that one day in August, two years ago, Howard Schultz commented that it is "fantastic. It's extraordinary." This coffee was developed by Starbucks partner Leslie Wolford, who works in the headquarters coffee department. She, and other coffee team members, were exploring the idea of an exquisite Reserve blend. Leslie worked on a number of recipes of single origin coffees blended as a Reserve, and on her eleventh go of it, she paired Guatamala Antigua with a sun-dried Ethiopia, and lo and behold Micro Blend #11 was born. I believe this was some time in 2013,
The lore of Micro Blend #11 continues: apparently there was discussion of whether this blend should be sold in Reserve stores everywhere. The answer came down as "no." The Starbucks Reserve stores are intended to put a spotlight on single origin coffees, not blends.
Eventually, a small amount of Micro Blend No. 11 ended up at Roy Street at one point. It found its way once in a while into one single store. Starbucks, meanwhile, pursued a few restaurants with the idea that they could serve Micro Blend No. 11 in their fine dining establishments. I've heard numerous people tell me that this coffee is offered in a tiny number of restaurants, but I've never gotten a straight answer as to where. One person told me California, another New York, and another told me a few restaurants in Seattle. Sadly, I don't know what restaurants offer this. If you know, please tell me.
Of course, as everyone reading this knows, in December 2014, Starbucks moved their roasting operations for Reserve coffees to the Starbucks Reserve Roastery and Tasting Room. My understanding is that there are a few restaurants that do offer this coffee, and when they place an order for more of it, the Roastery will order plenty for the restaurant and an extra run of it to be sold at the Roastery. And this is how it ends up on the scoop bar at the Roastery.
I stopped by the morning and spoke with a Master Coffee Roaster: The burlap sacks for the component unroasted coffee beans were sitting near the roasting area. Look how pretty the Guatemala Antigua Finca Medina burlap bags are! I like the image of the horse and cart! The Ethiopian component is a sun-dried Ethiopia Sidamo coffee.
The two components are roasted masterfully together – making this by definition a pre-roast blend, not a post-roast blend – and you end up with Micro Blend No. 11.
Imagine drinking berry-jammy chocolate and you will know the joy of Micro Blend No. 11.
If you are visiting the Starbucks Roastery, you'll find this coffee retails for $16 per half pound. Just a word about purchasing hand scooped coffee. If you buy coffee in flavorlock packaging, the only thing you need to worry about is using it up before the expiration date. Once you've opened up the flavorlock packaging, use your coffee within 7 days. For best results, always grind your coffee just before each time you're making coffee.
When buying coffee that was literally just roasted and not in flavorlock packaging, you have a couple of things to think about. Under any circumstances, for best freshness results, use your coffee within 15 days from the date that it was roasted on.
There is an initial de-gassing period that a coffee goes through. Coffee that has literally just been roasted is a bit like a green banana – not all the flavor has developed. Starbucks says that this "de-gassing" period can last up to eight days. I know that I've heard a variety of time-frames as to what's an ideal de-gassing period, just in my casual conversation with various people who know coffee. I've heard everything from four to eight days.
The upshot, is that if you have hand-scooped coffee not in flavorlock packaging, you need to make a mental note of that date it's roasted and drink your coffee no sooner than four or fives days from the date of roasting (ideally) and under any circumstances, try to use it up by the 15th days (8 days of degassing plus 7 days for freshness).
Related posts