A first for Starbucks: Sun-Dried Sumatra
Melody, September 21, 2012
16
4 min

read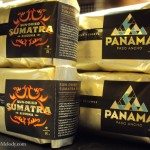 Two new Starbucks Reserve coffees were introduced into Clover Starbucks stores on September 18, 2012:  Sun-Dried Sumatra and Panama Paso Ancho.  They are both good but the Sun-Dried Sumatra will pretty much knock your socks off.  Usually, Sumatra coffees are semi-washed, so this is very new thing for Starbucks to offer a Sun Dried Sumatra.  In fact, it is the first time Starbucks has offered a "Sun-Dried" Sumatra.
Today (September 17, 2012), I went to a great coffee seminar at the Olive Way Starbucks that introduced these two new coffees.  Starbucks Coffee Master Megan conducted tonight's event.  There was a very large group for tonight's event – I would say that about 14 to 16 people showed up.
We walked through all four steps of a coffee tasting.  First we smelled the coffee, and noticed the aroma.  Secondly, we took a big slurp, aerating the coffee in the mouth.  And thirdly, we located where the flavor notes hit in the mouth.  And lastly, we described the coffee.
At one point during the seminar, I snapped this quick photo.  You can really see that Megan is having a good time!  This event had really fabulous audience participation and Megan did a great job fielding questions: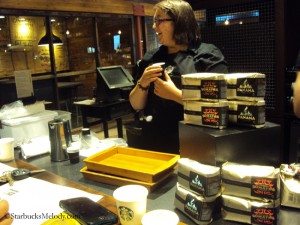 Sun Dried Sumatra:
The more fruity/ berry notes from this being a sun-dried coffee were very evident during this tasting.  Unlike an Ethiopian sun dried coffee (Harrar, for example), this coffee had more of rhubarb and jammy flavor notes.  In other words, a sun-dried coffee from an African growing region would be expected to have a lot of blueberry and cherry flavors, whereas this coffee had dried fruit and rhubarb flavors and some complex herbal flavors.  This is an amazing coffee.
Megan paired this coffee with a Moonstruck milk chocolate from The Chocolate Box.  She picked a "Mayan" toasted almond cinnamon chocolate which was rich with strong cinnamon flavors.  The cinnamon brought out the herbally spice notes.  Really a great pairing.
Coincidentally, earlier this week I was having a twitter conversation with a Starbucks coffee master partner in the UK.  He mentioned that Howard Schultz had just been in the UK last week.  Howard told a UK partner that this was "the best coffee he'd ever had," or so I hear.  Of course, that's the classic definition of "hearsay" when you hear something second-hand, but still, it's a resounding endorsement of this coffee that it's so well-loved by Howard!
The Sun Dried Sumatra Reserve is a dark roast coffee.  One can see an oily shine to the bean, showing that it's been through a deep roasting, enhancing its complexity.   This coffee is sourced from the Lake Toba region of Sumatra, which is a growing region famous for extremely high quality, lovely coffees.  A few years ago, Starbucks offered a semi-washed Lake Toba coffee which was available in only a limited number of international markets.
You can also buy Sun Dried Sumatra through StarbucksStore.com.
Panama Paso Ancho
The Panama Paso Ancho Reserve is a medium-bodied coffee with lots of lemon pepper flavor.  Several people in our group all thought that this is the perfect coffee to pair with a lemon pepper chicken.  Megan paired this coffee with a lemon pepper white chocolate, also from The Chocolate Box.  The pairing was superb.  It brought the flavor notes of this coffee to life.  I think people will either love this coffee … or not!  It's an unusual and distinctive flavor.  The next day after this coffee tasting,  I tried this coffee iced from the Clover too.  It's quite an interesting coffee.  I think you have to like pepper as a flavor note to like this. Be sure to try it and tell me what you think.  I can't quite get into this coffee.
I think it's interesting to compare the beans from the two coffees side by side.  It's obvious which is which!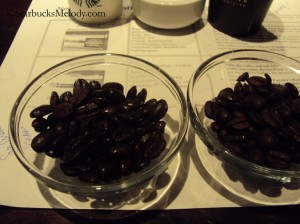 Here is what the chocolates looked like, in case you want to go find these delicious treats.  Just trying these chocolates was a lot of fun too!
Coffee Master Jess joined in the audience too, and was full of smiles!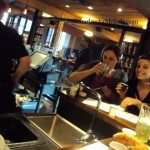 Don't forget, if you want to go to an Olive Way coffee event, they are usually every other Monday evening at 6:00 p.m.  However, you should call ahead because they sometimes vary their schedule depending on when new coffees are released, and their partners' availability.
Olive Way Starbucks
1600 E. Olive Way
Seattle, WA 98102
206 568 5185
Related posts