Alaska Airlines now proudly serves Starbucks coffee
Melody, June 14, 2012
11
2 min

read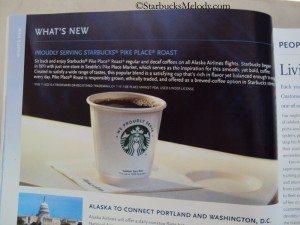 On June 14, 2012, I was on Alaska Airlines flight 504, heading to John Wayne Airport, and I noticed the flight attendant (Pam) wearing a "We Proudly Serve Starbucks Coffee" pin on her uniform. I commented that I liked it. She replied by explaining that Alaska Airlines only recently began serving Starbucks coffee on their flights. I oohed and awed over the pin, and she smiled, pulled it right off her uniform and gave it to me. I thought that was pretty nice of her! I like the co-branded napkins too with the 1912 Pike Place image on them.
There is a part of me that feels proud of this relationship between the two brands. About 20 years ago, I started flying Alaska religiously because they're the only airline with non-stop flights between SeaTac Airport and John Wayne Airport. That flight comprises 90% of my travels, and to this day, they're still the only non-stop carrier between those two airports. I don't expect others to be as tickled pink as I, nonetheless I want to share what the pin, napkin and cups looks like.
The cups are particularly clever because of the graphics (dashed line)  that connect the image of 1912 Pike Place to an airplane in the sky, and the words, "Same here … as here."  I found a brief mention of this new partnership in the June 2012 edition of the Alaska Airlines magazine.
I have a few more articles coming soon related to this California trip.  I just thought I would start with this short one.  And yes, I did enjoy a cup of Pike Place Roast on the flight.  Follow Alaska Airlines here on Twitter.
Related posts