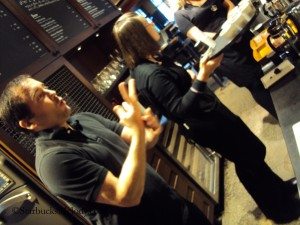 This past Monday night, I went to an ASL-interpreted coffee seminar at the Olive Way Starbucks.  I've always thought that sign language is beautiful to watch.  It's like watching a poetic dance.  As it turns out, a partner at the Olive Way Starbucks is working on becoming a certified ASL translator.  The crowd at this coffee tasting was huge.  The hearing-impaired probably outnumbered the other customers at this seminar.  I sat near a group of the hearing-impaired, including a woman named "Echo," who was excited to tell me about her blog: deafReview.com. Everything about this coffee tasting was quite an experience.  It was a very engaged group, with the hearing-impaired participants asking many questions from how to store your coffee at home, to what is the Clover coffee brewer.
Near the end of the coffee seminar, as we discussed blogs, I mentioned that I might be writing a blog post about the coffee tasting.  I stated that I was worried that I didn't have enough photos because I arrived a little late, and my camera's battery was nearly dead so I took only few pictures.  Immediately, the group of customers offered to be in the blog.  So I snapped a quick photo of some hearing-impaired customers, all simultaneously signing the word for Starbucks.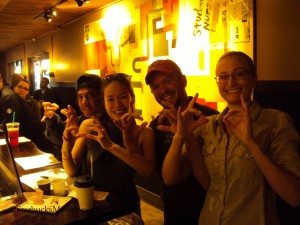 The sign for Starbucks, as I understand it, is an image of two stars sort of sparkling, and creating the idea of a crown.
The coffee tasting involved trying Malawi Coffee and Galapagos Island Coffee with a number of food options.  Both coffees were brewed on the Clover brewer.  You can buy either coffee at any Starbucks with a Clover brewer, and I think you can also buy Malawai at StarbucksStore.com.  Here's what the coffee packaging looks like:
The Malawi:
The Malawi is an African coffee (wash processed method) and has a full body, with chocolate, orange, spice, and floral flavor notes.  We tried this with the Cranberry Orange Scone, and this pairing tasted delicious to me.  I thought the scone brought out sweetness to the coffee, and of course, the orange flavors worked great with the coffee.   Since I arrived late, I didn't actually hear how others in the group liked this pairing.  I tried it at the end, just before I left.
Jess and Sadie, our coffee masters presenting the seminar, also paired the Malawi with Molten Chocolate Cake, which is an elevated offering available at the Olive Way Starbucks.  I have to admit that I enjoyed the chocolate cake so much that I had some difficulty concentrating on what flavors were highlighted in the coffee.
Galapagos Island Coffee:
It was incredibly valuable to compare the flavors of Galapagos Island coffee against the Malawi.  One of the other customers said that it was an extremely creamy feeling coffee, and even had a creamy aroma!  We paired the Galapagos Island with the Starbucks Spinach and Feta wrap which worked beautifully.  The Galapagos Island has a certain tangyness to it which works nicely with savory pairings.  The feta cheese has a certain brinyness to it that works well with the complex and tangy flavors of this coffee.  This coffee has a bite to it!
By the way, Jess and Sadie walked us through all four standard steps of a Starbucks coffee tasting: 1) Smell the coffee 2) Slurp 3) Locate the flavors in your mouth and 4) Describe the flavors.  At one point, Jess was explaining the big and loud slurp to the audience, and one of the hearing-impaired customers said, "We're deaf! We can't hear the slurp!"  I had to laugh a bit.
Here's the coffee tasting in progress:
Just as a reminder, if you want to go to an Olive Way coffee tasting, they are held every other Monday night, at 6:00 p.m.  Here's the store's contact information.  I recommend that you call ahead and confirm that there will be a coffee event:
Olive Way Starbucks
1600 E. Olive Way
Seattle, WA 98102
206 568 5185
One more thing: I met a Los Angeles-based partner who happened to be visiting Seattle and made a point of seeking out an Olive Way coffee seminar.  Rachel is very passionate about Starbucks, and mentioned that she already has been reading the blog!  It is a small world!  Rachel, if you're reading this, it was nice to meet you!
If you want to read about more coffee tastings, click through the coffee tastings in the categories tab.
Enjoy!  Thank you for reading my 500th published blog article.  This is the 500th article on this site!
Related posts