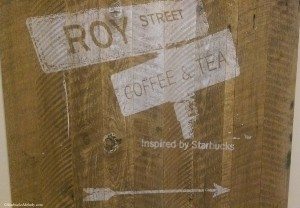 At about 8:30 AM today (Sunday, August 17, 2014) I dropped by Roy Street Coffee and Tea. It's been way too long since I spotlighted this store. This location is entirely owned and operated by Starbucks. In fact, it's one of just a few stores that are considered to be "Inspired by Starbucks" stores. An "Inspired by Starbucks" store will have Starbucks coffees available but that's almost where the similarity ends. You can use your Starbucks card at Roy Street and earn a star per transaction. There is no way to redeem a reward. There are no Frappuccinos. Neither the food nor the beverage menu looks much like Starbucks at all. You can a "Reserve Pour Over" or a Clover-brewed cup of coffee. With the Reserve pour over, partners take extra care to make sure that no step is missed, such as pre-wetting the filter and doing a very slow pour. (When making a pour over, a small amount of hot water should be used to rinse through the filter. That water is tossed out. The pre-rinse step helps eliminate any paper filter taste and improves the extraction of the coffee.)
I ran into partner Matt, whom I've known since about 2007. When I met him, he was a baby barista at the Columbia Tower Starbucks in downtown Seattle. He moved to "15th Avenue Coffee and Tea" which at one time was also an "Inspired by Starbucks" store. In January 2011, 15th Avenue Coffee and Tea reverted back into a standard Starbucks location.
Matt is the kind of guy that always leaves you smiling after you talk with him. He knows how to have a good laugh and smile a lot too. I know that Matt is a musician in a band, so each time I see him, I follow up with him on how he's doing. I appreciate the hard work that any creative output requires (and for me this blog counts as that as well as my book). Matt mentioned that he's recording an album. The conversation went something like this:
"We're recording an album Melody, and maybe a band tour starting in October."
"That's awesome! I'll buy a copy of your CD. I'll buy a copy even if I don't like the music!"'
"I appreciate that! You know I'm going to hold you to it. We're looking at ways of fundraising. Maybe Kickstarter. We've talked about doing an auction and having the band members auction of kisses!"
I laugh: "You bring out the cougar in me!" Matt laughed. He knew I was joking around.
But back to the topic of Roy Street. It has a beautiful Simonelli Black Eagle espresso machine. Every latte is handcrafted with your choice of a single-origin Reserve coffee or a more standard Espresso Roast. I was surprised that the store was fairly slow when I dropped by. I don't consider 8:30 AM to be very early. As far as I know, Starbucks currently operates three "Inspired By" stores. One is in Tokyo. I believe that the Herald Square Starbucks in New York City is considered an "experimental" store but it doesn't have the Inspired By branding. I'm not actually positive about that, and if you know better in the comments, do tell. And of course, Roy Street is an "Inspired By" store.
I end up mentioning the older 15th Avenue Coffee and Tea, as well as Roy Street several times in the book Tales of the Siren: A StarbucksMelody – If you haven't picked up a copy, I hope you'll do so.
Enjoy the photos: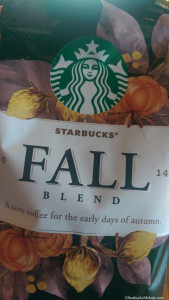 After Roy Street (and a few more scheduled stops), I headed to a Starbucks for a coffee tasting with partner Jocelyn. She'd mentioned that she was working on a perfect pairing for Fall Blend 2014. This was incredible. Fall Blend exceeded my expectations. The bag states that it's classified as a "medium" roast coffee but I would guess that it's on the darker spectrum of medium, heading into dark. It's a complex, savory coffee with dark cocoa and spicy notes. It's perfect with cheese and dark chocolate. Actually, the packaging describes some nutty flavors though I think the darker, complex Sumatra notes were more prominent. As the coffee cooled, the citrus component of Kenya came to life. After it's cooled just a bit, it picks up a juicy finish. The master coffee blenders at Starbucks get two solid huge thumbs up on this coffee. If I had more thumbs on my hands, they'd get more than just two of them.
We paired Fall Blend with cheese from the Starbucks bistro box. The idea was that the cheese added creaminess and brought out more savory notes yet calming the peppery, spicy notes. This was a pretty good pairing, though the chocolate pairing we did was even more fantastic. Jocelyn picked out a Vosges Peppercorn and Parmesan chocolate bar. This may be a hard to find chocolate bar – I've heard that it's exclusive to Whole Foods stores. This was amazing. The subtle peppercorn notes made the spicy notes in the coffee pop yet the dark chocolate balanced it well.  Our coffee was brewed with the standard Starbucks pour over kit, found at Starbucks stores everywhere. I hope you get the chance to pick up some Fall Blend 2014 too. Look for it at any grocery store.
Related posts