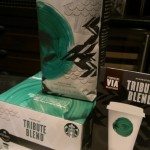 Tribute Blend will officially arrive in Starbucks stores everywhere on Tuesday, March 4, 2014. It's a coffee that features beans sourced from Colombia, Papua New Guinea, and combines Aged Sumatra and sun-dried Ethiopian coffees. It is one of only three Starbucks blends to use Aged Sumatran beans. (The three blends that include Aged Sumatra are Christmas Blend, Anniversary Blend, and Tribute Blend).
Coffee Master Jordan walked us through trying this year's Tribute Blend from both the Clover as well as made with a French Press. We compared Tribute Blend to the Starbucks core Sumatra.
A small group of about six people appeared for this coffee tasting. I sat down and saw everything neatly set up for the event:
We first tried the Tribute Blend prepared via a French Press. I noticed a lot of berry aroma from the French press-prepared Tribute Blend. This coffee hits you in the middle of the mouth with big flavors of berry and herbal spices. One of the great things about comparing Tribute with Sumatra is seeing how the Tribute is much more complex because it's a multi-region blend. The Sumatra was indeed delicious and had lots of herbally flavor notes, but lacks the complexity of multiple flavors because of beans sourced from multiple growing regions.
Jordan did a great job of leading the coffee seminar! I always love a good "smell" pic so here's Jordan leading our group as we smelled the coffee. I think this was when we were smelling the Sumatra: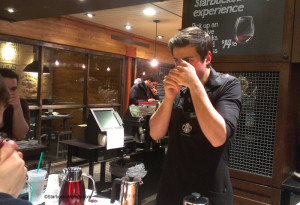 We paired the Tribute Blend with the La Boulange Reduced Fat Berry Coffee Cake to bring out more of the berry flavors. Jordan explained that the purpose of trying coffee with food is to bring out flavors of the coffee that you might not otherwise detect. I thought that the Reduced Fat Berry Coffee Cake worked well and that the buttery, flaky texture of the coffee cake made the Tribute Blend seem even smoother than before. The Chocolate Berry Bites were also great to bring out berry flavors in the Tribute Blend: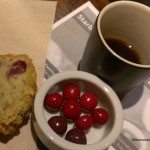 When we compared Sumatra with Tribute Blend, we used a tasting guide sheet that included lots of good information about the coffees. Did you know that cinnamon, maple, and oatmeal are all complementary flavors for Sumatra?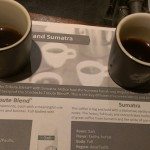 You can see how beautiful these beans are: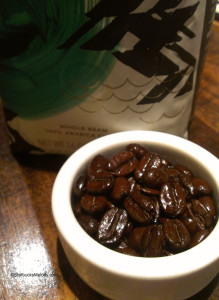 When we tried the Tribute Blend made from the Clover, we noticed a little less berry aroma, and a little more chocolatey notes in the flavor of the coffee. Either way though, I think this year's Tribute Blend is truly going to be a hit. It's a big, bold, complex flavor that will be versatile to pair with a number of foods. As a reminder, on March 4th, you'll be able to find Tribute Blend as a whole bean coffee, Via Ready Brew (an instant coffee in single serve sachets), Verismo pod format, and also K-Cup pod format.
Thank you Jordan for your hard work in putting together this superb coffee event!
Related posts